Q&A: Joshua Fialkov Talks Punks the Comic
By Leroy Douresseaux
May 6, 2007 - 14:04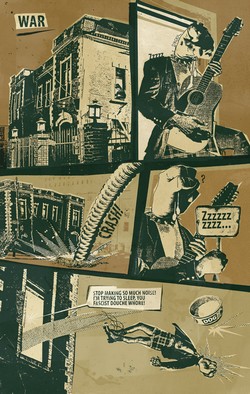 Issue #1, pg. 1
Joshua Hale Fialkov, writer of the highly-praised indie mini-series, Elk's Run, and graphic artist/designer/illustrator Kody Chamberlain (Boom Studio's Tag and IDW's 30 Days of Night: Bloodsucker Tales) are unleashing their comic book, Punks: The Summer Comic Special, published through Digital Webbing.
How many times have I praised Kody's work on this site – that's a rhetorical question. I've also just realized that I'm somewhat familiar with Fialkov through his indie comics work. He's been kind enough to answer a few questions for a Bin Q&A:
CBB: What is Punks the Comic in terms of plot, setting, and characters?
FIALKOV: Punks is sort of a tribute to the spirit of Punk rock in the 70's and 80's. We pay a pretty tight homage to "The Young Ones" and that whole realm of TV and film that we in America saw on MTV in the middle of the night, or in grungy art house theaters. More precisely, it's about Abe Lincoln, and guys with a Skull, a Dog's Head, and a Fist for heads. They get into many exploits, generally involving shouting and groin punching.
CBB: Concerning the art and design, is it a mixed media project?
FIALKOV: Kody does EVERYTHING by hand. He's using an exacto knife and a glue stick to assemble the pages, then, does finishing in Photoshop. Part of why it has such a unique look is there's just no comics being made this way today.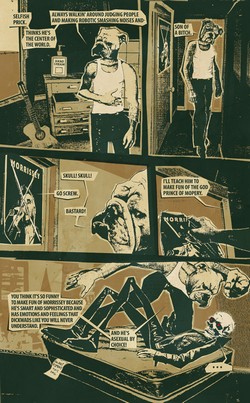 Issue #1, pg. 2
CBB: Who is publishing the project, and is it finite or ongoing?
FIALKOV: The idea is that it's sort of like an episode of a sitcom, so you don't need to read or see anything other than what you have in your hands in one issue. We're adding a whole lot of extra features, like interviews with people who either influenced us, or are just our peers we respect. We're also adding all kinds of behind the scenes stuff, showing people how to make their own comic. It's being published by Digital Webbing, who've made a name for themselves by breaking a lot of talent into the industry, including Kody himself.
CBB: What was the genesis of this project?
Kody and I have been friends for a long time, and pretty much since we first met, we wanted to work together. We share a lot of sensibilities in storytelling. At about the same time, I went to Kody to tell him I really wanted to do a hybrid prose/comics/art book that was sort of a fictional biography, and he had said that he'd been working on this new art style he wanted to work in. It turned out they were perfect for each other. So, while we were working out what to do and how, Kody sent over that iconic first image, and it was just... there. We wrestled with how and what the book should be, and finally found the happy medium that is Punks.
Issue #1, pg. 3
CBB: If there is a selling point or something about the project that you want to get across to readers, what is it?
FIALKOV: It's funny, it's different, it's smart, it cures cancer*, it has laser blasting alien robots, and more head wound jokes per page than any other book on the stands**,
*Does not in fact cure cancer.
**Not including Head Wound Joke Monthly
CBB: What other work, if any, do you have coming up in the foreseeable future?
FIALKOV: I'm currently writing the Vampirella Quarterly ongoing series, from Harris, and have my graphic novel Elk's Run from Random House in bookstores right now. Lots more stuff on the way, which you can follow over on my website www.hoarseandbuggy.com or on the Punks site at www.PunksTheComic.com
NOTES: Punks: The Summer Comic Special can be ordered in the May 2007 issue of distributor Diamond Comics' Previews (page 284, under the Digital Webbing listing). The book is listed four times (pages 17, 216, 278, and 294), including Diamond's "Staff Picks" (http://previews.diamondcomics.com/public/default.asp?t=1&m=1&c=6&s=221&ai=40132&ssd=).
Joshua's acclaimed series is a graphic novel, Elk's Run, is a graphic novel from Random House, and he's had stories included in the indie anthology book, Western Tales of Terror, published by Horse and Buggy Productions where he is the Editor-in-Chief. Kody maintains a website at www.kodychamberlain.com.
Last Updated: June 23, 2021 - 00:29