Moonstone Books Collects "Tales of the Night Stalker"
By The Editor
July 1, 2009 - 12:38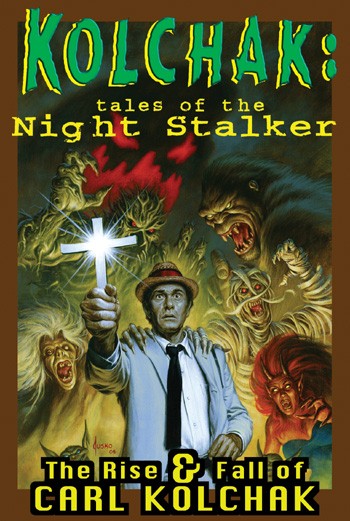 Kolchak: Tales of the Nightstalker cover image.
Kolchak: Tales of the Night Stalker:
THE RISE & FALL OF CARL KOLCHAK
Written by Dave Ulanski
Art by : Ron Frenz, Chris Burnham, Pat Olliffe,
Cover: Joe Jusko
208pgs, 7" x 10", $19.95
10 digit: 1-933076-58-5
13 digit: 978-1-933076-58-4
TV's premiere paranormal investigator returns!
"The seatbelt light is off, feel free to move about the country" is the theme here, as Kolchak's gaining popularity sends him to Seattle, to New Orleans, even to Egypt. But who or what has set up our downtrodden reporter's lucky streak... and what sends him headlong into his downward spiral?
This collection of Tales of the Night Stalker issues one through seven pits Kolchak against plant monsters, a man-eating shadow, gremlins, Sasquatch, a mummified vampire, Bloody Mary, and even a beautifully seductive demon from Hell. Yes, our favorite report has seen better days- and believe it or not, these are some of them! But how much horror, and tragedy, can one man take?
Last Updated: June 23, 2021 - 00:29