Moonstone Books to Release Phantom Checkmate Collection
By The Editor
July 2, 2009 - 10:18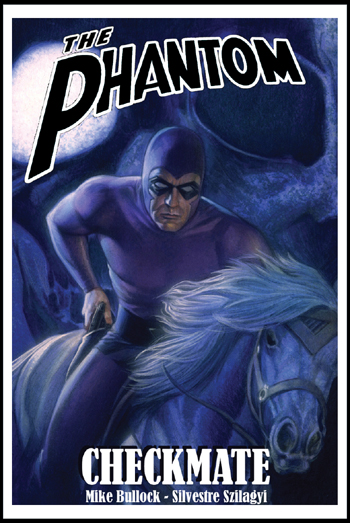 Phantom Checkmate art
The PHANTOM: Checkmate
Written by: Mike Bullock
Art: Silvestre Szilagyi
Cover: Douglas Klauba
132 pages, color, squarebound, 7 x 10, $15.95
10 digit: 1-933076-62-3
13 digit: 978-1933076-62-1
Just in time for the Sci-Fi Channel's Phantom movie!
"If you've never read the adventures of the Phantom before, or if you've been away for a while, this is a great [place] to get back on-board." – Comixtreme
Voted "Best Phantom Story of 2008 from any Publisher" - The Chronicle Chamber
"The Phantom is worth the price of two comic books from DC or Marvel." – Comics Bulletin
This volume collects the Phantom story "Checkmate", which ran in issues #21-25. Rebels warring in Bangallan jungles, terrorist attacks in the streets of Mawitaan and an old enemy suddenly freed from prison for no logical reason. Is this a series of unrelated events or part of something far more sinister?
To the outside world, this man, seemingly immortal, has always worn the mask. As the legend grew, it transcended the life of any one mortal.
And that legend became THE PHANTOM!
High adventure and intrigue in the African jungle, on the high seas, and in the streets! There is always justice that needs to be served, whether it's in the present…or the past.
Last Updated: June 23, 2021 - 00:29