Minima!: Volume 1
By Leroy Douresseaux
February 20, 2008 - 14:23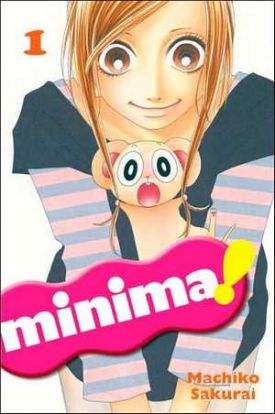 Thanks to barnesandnoble.com for the image.
Her fellow students describe
Ame Oikawa
has gloomy, and Ame's fake friends talk about her behind her back. The shy schoolgirl becomes the center of attention, however, when she purchases a "super-cute" doll that shockingly moves and talks like a living being. Now, everyone wants a piece of Ame and especially the doll (a meerkat toy) named
Nicori
. Ame would be happy just gaining the attention of
Sasaki Masahiro
, the cutest boy in school, and Nicori would be happy if Ame just paid more attention to him.
THE LOWDOWN: In Minima!, Vol. 1, manga-ka Machiko Sakurai gives the reader the shoujo romantic drama with a big dose of social commentary and kooky fantasy. Sakurai truthfully captures the cruelty of young teens – the jealousy, the gossip, the insecurity, and especially the desperation to be like everyone else. One can literally feel Ame wilt under the judgmental gazes and words of her classmates. Being accepted and popular is practically the law. Sakurai provides balance to this with Midori, a boy who probably likes Ame as much as she adores Sasaki, and also with series star attraction, Nicori.
Nicori is not exactly wise. He is ignorant of the complexities and subtleties of human relationships, so his blunt observations cause embarrassment. This doll is more than comic relief; he's also like a sounding board that Sakurai can use to make her high school romance drama so much more edgy.
POSSIBLE AUDIENCE: Readers who want a little more mojo in their shoujo will enjoy this odd, surreal, and even prickly series.
A-
Last Updated: June 23, 2021 - 00:45