Comics / Comic Reviews / More Comics
Renee French: Micrographica
By Leroy Douresseaux
April 1, 2007 - 12:19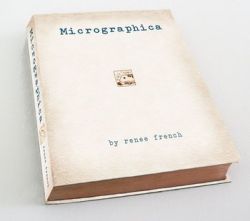 A photo image of the book's cover
In her upcoming book,
Micrographica
,
Renée French
presents a crew of tiny rodents living a life of trash talking and hangin' out. When
Preston
finds a ball of crap, he starts a chain of events that has the rodent boys exploring the cracks and crevices of a corpse and, of course, lots of crap examination.
Readers familiar with Renée French's work such as Grit Bath or her recent graphic novel, The Ticking, may find Micrographica a bit of a departure. For one, the art here is drawn in a simple line, which is primitive compared to the textured forms and layered shapes of The Ticking. The subject matter might be repulsive, but once you start reading, you're curious to see how this concludes. The book includes a portfolio of the Micrographica characters drawn in French's familiar charcoal, neo-pointillist style, and it also has a gallery of guest artists drawing crap. The luminaries include screenwriter and director James Gunn ( Slither), whose wife, actress Jenna Fischer (Pam on NBC's "The Office"), is a fan of French's work.
Micrographica is scheduled for release in May 2007. The Diamond order code is MAR073734.
A review of The Ticking: http://www.comicbookbin.com/mrcharlie086.html
Last Updated: May 19, 2020 - 12:25