Lucille
By Leroy Douresseaux
February 13, 2012 - 11:36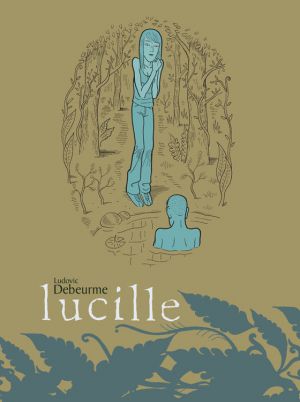 Lucille cover image
Rated: Mature (18+)
Lucille is a 2006 graphic novel created by Ludovic Debeurme and originally published in France. Lucille made its English-language debut in 2011 from Top Shelf Productions.
The novel is set in rural France and centers on two teenagers from families that are dysfunctional to one degree or another. Lucille Flavinsky is a 16-year-old and suffers from anorexia. Abandoned by her father, Lucille battles her mother's attempts to get her medical help.
Arthur is a teenaged boy whose father, Vladamir, is a fisherman and an alcoholic. Arthur strongly resists inheriting his father's profession and his father's family's traditions. After two chance encounters, Lucille and Arthur become a couple, star-crossed lovers soon on the run to Italy. However, they cannot run away from their families' complex legacies, nor can they outrace their own personal complexities.
Lucille has a broad reach and scope, playing like both modern fiction and like some potboiler genre piece. Its creator, Ludovic Debeurme, excavates the nuances and intimate details of the lead characters and also reveals essential moments in the lives of many of its supporting characters. That is why Lucille is definitely not a comic book and is certainly a graphic novel. Lucille is complex, and the narrative flows naturally, always frustrating our expectations, but rewarding our patience – so much so that I must wonder if the narrative did not also frustrate its creator.
Several years ago, I was briefly acquainted with a young woman who was suffering from anorexia. She thought she was fat (though she was not) and unattractive (again, not true, at least from my perspective). She had that pale, young waif look that some young women are lucky or opportunistic enough to turn into a career as a model and/or starlet. I found her more pitiful than I felt pity for her. I have to admit to not exactly being sympathetic to women suffering from anorexia, but I'm working on that. This is the reason why my feelings about Lucille fluctuated so much. She annoyed me as much as she intrigued me.
Like the larger narrative, however, Lucille the character is fascinating and mysterious. She is subtle and yet powerful, like Debeurme's simple line work and evocative compositions. Lucille is tender and stubborn, both the book and its title character. This is a mesmerizing work, and I started out not wanting to read it. I felt obligated because Top Shelf sent me a review copy, but now I can't act as if this stunning book has not touched me. I am still thinking about it, and because this is the first chapter of a longer story, I want to read on.
Last Updated: April 9, 2021 - 22:22