Comics / Manga / Yaoi Manga
Tatsumi Kaiya's Love Training (Yaoi)
By Leroy Douresseaux
February 25, 2009 - 10:21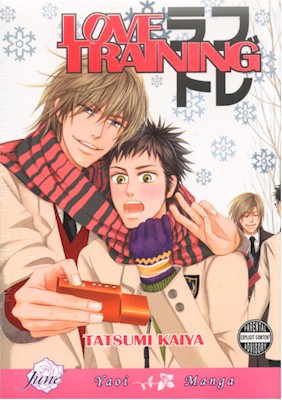 Love Training cover image is courtesy of Anime Castle Books.
Rated "M" for "Mature Audiences 18+"
Koji's mother will marry the wealthy Hitoshi Saiki, moving her and her son up in the world. Not only does he get a new name, but Koji Saiki gets a new school. He enrolls at Sakurajo Secondary High School, where some of Japan's most privileged (and beautiful) boys attend. Then, Koji discovers that he has twin stepbrothers – Ryo Saiki and Jin Saiki – and one of them wants to get in Koji's pants. Meanwhile, rent-a-boy Makoto Goto makes a play for playboy Taiki, but is Makoto really just looking for a rich boy or is there love involved.
Love Training by Tatsumi Kaiya (Hot Steamy Glasses) is an ensemble romantic comedy with sex, as Kaiya regales her readers with an anthology of young male love and lust. The comedy comes from the conflict between the horny young men, who are usually tall and athletic, and the objects of their lust, smaller boys who are just as horny, but are also stubborn about finding real love. These smaller boys make up for their lack of stature with their sassy, plucky attitudes. They're not giving up the booty without a promise of real love.
Love Training isn't exceptional material, but the feisty, conniving characters make for a good read. The delightful Eita (of "It's Spring") deserves his own novel.
B+
www.digitalmanga.com
www.emanga.com
Shop for Yaoi Delights.
Last Updated: June 23, 2021 - 00:45