Comics / Manga / Yaoi Manga
Yukari Hashida's Kabuki Volume 1 - Flower (Yaoi)
By Leroy Douresseaux
November 20, 2008 - 13:44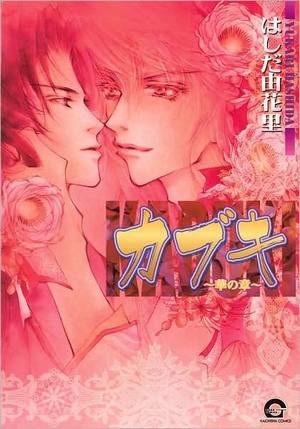 The above is the cover image of the original Japanese edition. June Manga's edition keeps the cover illustration and replaces the cover copy.
During Japan's Tenshou Era (1573-1592 A.D.), Kounosuke Kuga was an elite warrior, served by his loyal page Kageya. Before their deaths during a battle, Kounosuke and Kageya pledge to be reborn in the future and continue their love. Kounosuke reawakens in modern time, and his trusty page is nowhere to be found. Then, Kageya reappears – three of them. Now, Kounosuke must wade through massive memory loss, doubt, and confusion to decide which of the three Kageya – grandfather Rokusaburou, father Gorou, and son Shirou – is his true love.
Kabuki, Vol. 1: Flower is yaoi manga as supernatural romance or, at the very least, fantasy romance. Flower is light on sex, but heavy on psychological character drama and conspiracy/mystery. The art is as impressionistic as it is realistic, and the figure drawing isn't always on the pretty side. What Flower lacks is passion, and a romance that sails the oceans of time and survives centuries should be hot and passionate. Kabuki, Vol. 1: Flower is practically cryogenic.
C
Last Updated: June 23, 2021 - 00:45