Itsuwaribito: Volume 5 Manga Reviews
By Leroy Douresseaux
April 11, 2012 - 08:27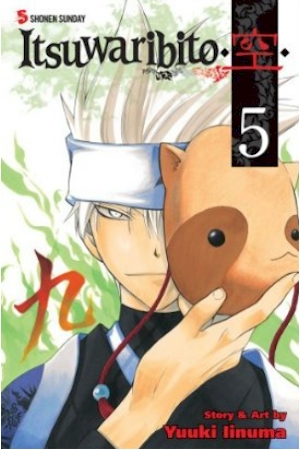 Itsuwaribito Volume 5 cover image is courtesy of barnesnandnoble.com.
Rated "T+" for "Older Teen"
Once, when he was a small child, Utsuho Azako told the truth, directly resulting in the destruction of his home. Now, Utsuho is an unrepentant troublemaker and a self-professed "Itsuwaribito," a crook that practices all illicit trades. Still, the teen wants to help people. Traveling with his talking tanuki, Pochi; a young physician who hates liars, Dr. Koshiro Yakuma; and the refugee, Neya Multo, Utsuho helps others by telling lies.
Itsuwaribito, Vol. 5 opens with Utsuho and company still in Natsumura, a town of craftsmen who make explosives and fireworks. It is also where Utsuho has been reunited with Tenka, a boy who once lived at the orphanage with him. There has been a series of brutal murders in the village, and now, the killers have been revealed, but the real mystery is who or what started the killings.
Next, the quartet is off to solve the mysteries of the story known as "The Kokonotsu." They travel to Chikushishima, where awaits a village and magical treasure that can make their dreams come true. However, they meet a young sentry named Yo-Yo Hatobaki, who is guarding Chiku from outsiders as he searches for a princess named Kazura. But before they can find treasure and princess, they must overcome an army of killer… dolls?!
THE LOWDOWN: I have described the Itsuwaribito manga as being something like a samurai/ronin comedy, but darkness falls with this fifth volume. There is violence, revenge, more violence, lies, still more violence, and then, shocking secrets.
Previously, creator Yuuki Iinuma offered lots of convincing martial arts action; one might even call this a shonen battle manga. So this time, Iinuma offers copious amounts of explosive violence and the occasional blood splurt. The ending is so good, that I can't wait for the next volume.
POSSIBLE AUDIENCE: Fans of ronin-type comedies may like Itsuwaribito.
A-
Last Updated: June 23, 2021 - 00:45