Hunter x Hunter: Volume 23
By Leroy Douresseaux
November 17, 2008 - 20:25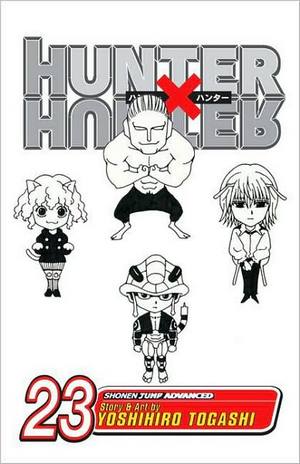 The cover image of Hunter x Hunter 23 is courtesy of barnesandnoble.com.
Rated "T+" for "Older Teen"
Gon Freecss discovers that his father, Ging Freecss, whom he thought to be dead, is actually alive and well. Gon dedicates himself to being what his father is – a great Hunter, one who devotes himself to tracking down priceless items and treasures, mystical places, magical beasts, and even other people. Those who pass the grueling qualification exam to become a Hunter also get access to restricted areas and amazing stores of information.
In Hunter × Hunter, Vol. 23, the "Chimera Ant Story Arc" continues. On the island nation of NGL, Hunters battle soldier Ants as the Hunters move to surround The King, the monstrous and brutal leader of the Chimera Ants. Meanwhile, Gon's silent stalker reveals himself and is ready to make an ally. Killua Zoldyck, Gon's friend, takes the fight into a cavern where he battles ravenous Chimera fish. Nothing prepares him, however, for the sniper who is shooting Flea-Bullets from afar.
THE LOWDOWN: As it's like a "Bizarro" Naruto, one would expect Hunter × Hunter to be filled with weird characters – both heroes and villains, and it certainly is weird on top of weird. This shounen manga (boys' comics) from Yoshihiro Togashi, the creator of YuYu Hakusho, is a fun read. It has the big fight scenes, exotic settings, and uncanny characters that are basic necessities of action/fantasy manga, and Togashi's execution of his wild concept is good.
POSSIBLE AUDIENCE: Although Hunter × Hunter is rated for "older teens," its characters, setting, and plot will also appeal to 'tween and teen shounen fans.
B
Last Updated: January 24, 2022 - 11:00