Comics / Comic Reviews / More Comics
Home Time: Under the River comics review
By Leroy Douresseaux
August 28, 2017 - 12:42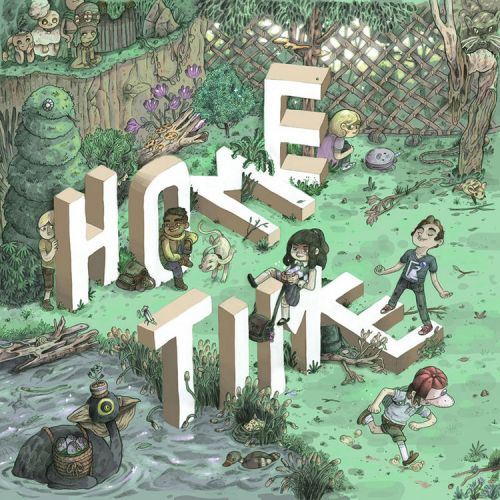 Home Time: Under the River cover image
Rated: Older teen and adult (16+)
Home Time: Under the River
is an original graphic novel from Australian comics creator and arts educator,
Campbell Whyte
. A full-color, hardcover (9" x9") book, Under the River is Whyte's debut graphic novel and is the first in a series that is apparently inspired by the worlds of fantasy fiction that Whyte encountered in the 1980s and 90s.
Home Time (Book One): Under the River
introduces
Lilly and David Watanabe
, who might be twins, but they don't agree on much. December 15th marks the beginning of their last summer before high school, and they at least agree that they are going to enjoy it. This is going to be a perfect time of relaxing with friends:
Nathan Dermott
,
Ben Miller
,
Amanda Holm
, and
Lawrence Baudin
. They are going to play fantasy games, watch movies on video, and have sleepovers., and there might even be some romance.
The best laid plans of mice and almost-high-schoolers, however... David and Lilly and their friends fall into a local river. When they wake up, there are in a strange land where they meet peculiar diminutive plant-like people that call themselves the "
Peaches
." Taken to the
Village of the Peaches
, the kids learn that these beings consider them to be savior – "sky spirits" that have come to save the Peaches from their enemies.
The kids are trained in the art of tea-brewing in preparation for an upcoming festivals. The boys also explore and discover that there is more to this world than they imagined... or were told. Now, they have to discover the truth and find their way home – if they can tolerate each other long enough.
THE LOWDOWN:
Back in the 1990s, I read an article in which the author stated that he believed children's literature and picture books had become safe. He said that publishers were unwilling to tell stories that were dark and dangerous or that placed children in peril. That probably was his perception based on what children's books he encountered, or maybe, his intention was to complain about political correctness and/or be nostalgic for an era before he was even born.
I often encountered dark and edgy children's storytelling back in "those" days. Lord knows Harry Potter (which began publication in 1997) seems to trade in the currency of death, duplicity, and betrayal. A main character who is a child is actually killed in Philip Pullman's The Golden Compass (first published as Northern Lights in 1995).
While Home Time: Under the River is rated for older teens, I think younger teens and 'tweens will find this comic book appropriate. Well, if readers young and old... I mean mature are looking for children's literature of a darkling kind, they will find that in this most excellent graphic novel, Home Time: Under the River. It is hugely imaginative, and it grabs the readers with its sense of dread, doom, and finality. We follow the children on many explorations, and there is always, around the edges, an ominous atmosphere surrounding everything. So even as the children keep discovering in this world of color and natural splendor, there is menace in the garden of delights, making the story richer and more engaging with each page.
Home Time: Under the River may end up being the best or be on the shortlist of best graphic novels for any age this year. Campbell Whyte's storytelling is a celebration, an exploration, and a display of shifting drawing mediums and graphical styles. There is more imagination in Whyte's story than you will find in an entire year of most of Marvel and DC Comics's superhero comic book titles.
POSSIBLE AUDIENCE:
People looking for classic children's storytelling for their young readers will want to buy
Home Time: Under the River
, and then fight over who reads it first.
A
9.5 out of 10
www.topshelfcomix.com
Rating: 9.5 /10
Last Updated: September 6, 2021 - 08:15