Hell Girl: Volume 5
By Leroy Douresseaux
January 31, 2009 - 10:27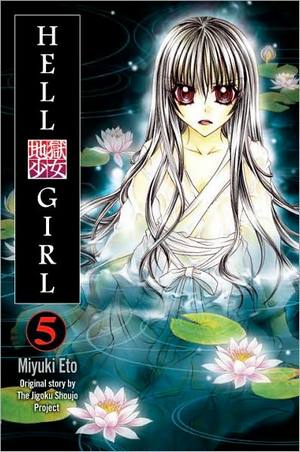 Hell Girl 5 cover image is courtesy of barnesandnoble.com.
Rating "OT" for "Ages 16+"
When you really thirst for revenge or wish to protect yourself or protect loved ones, you can visit Hell Correspondence, a website that only appears at midnight. Writing the name of an enemy on the website summons Hell Girl, who will kill your enemy and drag him or her to hell! But there's a price (There's always a price!). When you die, your soul also goes to hell.
In Hell Girl, Vol. 5, four people fight to protect themselves and their loved ones, and Hell Girl can help them destroy the people who threaten them. The road to Hell, however, is paved with good intentions. "The Smiling Celebrity" focuses on Ayumi Yoshii, who was once a pudgy child star. Now, she's a "superpopular" teen idol adored by teen boys, but one of her fans is stalking her. He/she wants the chubby Ayumi back, even if he/she has to harm Ayumi to regain the "real" Ayumi.
A granddaughter discovers the shocking secret of her grandmother's deal with Hell Girl ("Letters to Hell"), so will she judge her grandmother harshly, as everyone else does – including her own mother? In "Days of Love," a teen with an obsessive boyfriend turns to Hell Girl for help, but so has her boyfriend! A young woman hunts for her parents' killer, but she may lose her brother and her soul in "Request from Hell!"
THE LOWDOWN: Managing to be both creepy and cute, Hell Girl is a manga adaptation of the popular Japanese anime series, Jigoku Shojo. The Hell Girl comics series is produced by manga-ka Miyuki Eto, who apparently adapts some episodes of the anime, but mostly creates original stories for the manga. For the most part, these episodes are self-contained short stories focusing on an individual whose suffering is caused by an antagonist (sometimes more than one). Each story thoroughly explains the evolution of the besieged character's torment at the hands of a rival/enemy. As that torment escalates, the protagonist's dilemma turns to a grudge, and that's when Hell Girl gets involved – if the protagonist (or in some cases, the antagonist) calls.
This format works quite well for the Hell Girl manga. In fact, this episodic, anthology format keeps the series fresh because each story offers a new scenario. If the readers can connect with each new protagonist's problems, the overall series benefits. In this volume, the opening story is weak; it's hard to be engaged by a story in which both the protagonist and antagonists are uninteresting. However, the story about the girl searching for her grandmother… it hit me in the heart, man! That was the real deal.
POSSIBLE AUDIENCE: Readers who enjoy Shin Mashiba's Yumekui Kenbun: Nightmare Inspector will enjoy Hell Girl which is similar in tone and in format to Nightmare Inspector.
A-
Last Updated: June 23, 2021 - 00:45