GONZO's Gankutsuou: The Count of Monte Cristo Volume 1
By Leroy Douresseaux
November 17, 2008 - 09:22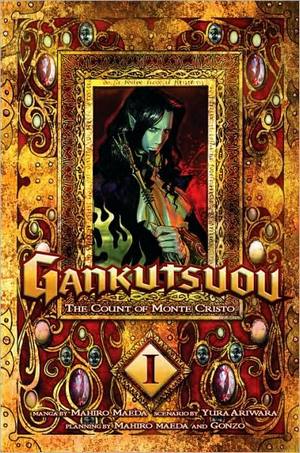 Thanks to barnesnandnoble.com for the Gankutsuou 1 cover image.
Rating "OT" for "Ages 16+"
"Gankutsuou: The Count of Monte Cristo" is a sci-fi anime series. It is a re-imagining or pastiche of Alexandre Dumas' classic French novel, Le Compte de Monte-Cristo (The Count of Monte Cristo). This 24-episode anime series was produced by Gonzo, the anime studio behind "Afro Samurai," "Burst Angel," and "Speed Grapher."
Mahiro Maeda, the director of the Gankutsuou anime, also produced a manga adaptation of the series that was published in Japanese publisher, Kodansha's Afternoon manga magazine. Del Rey Manga is publishing an English edition of the Gankutsuou: The Count of Monte Cristo manga.
Gankutsuou: The Count of Monte Cristo, Vol. 1 introduces readers to the 15-year-old Viscount Albert de Morcerf, a young Parisian nobleman vacationing on Luna (the moon) with his friend and fellow nobleman, the young Baron Franz D'epinay. It is the Luna Carnival season, and strange sights greet the two young men. However, nothing is as strange as the Count of Monte Cristo, a fabulously rich and highly mysterious aristocrat from the far reaches of the galaxy.
While Franz is put off by the Count, Albert is drawn to the count's sophistication and intelligence, and Albert is soon charmed by the Count's surprising kindness towards him. When Albert invites the Count to visit his parents' palatial estate in Paris, he doesn't know that he's opened the door for the Count to exact his revenge for a terrible act of betrayal.
THE LOWDOWN: To put it simply, Gankutsuou: The Count of Monte Cristo is a great read. It's the kind of page-turning, mystery, suspense, thriller that won't stay out of your hands until you're finished reading it. [Although I've never read Alexandre Dumas' novel or seen the numerous film versions, I am familiar with the story.] This first volume of Gankutsuou certainly captures a sense of anticipation that builds as the diabolical plot progresses in its early stages.
The art, built on intricate detail and festooned crosshatching, is pitch perfect for this series, with all its settings awash in rich shadows and a plot full of shadowy conspiracies. Creator Mahiro Maeda's art style looks something like a combination of the styles of comic book artists, P. Craig Russell and Michael T. Gilbert (who actually worked together of Pacific Comics' early 1980s miniseries, Elric). This visual style fits the subgenres from which Gankutsuou seems to borrow – space opera, planetary romance, and Victorian fiction.
POSSIBLE AUDIENCE: I imagine that fans of the anime will like this, as well as readers that still enjoy old school, pulp science fiction.
A-
Last Updated: June 23, 2021 - 00:45