From the Shadow of the Northern Lights (Anthology)
By Leroy Douresseaux
August 31, 2008 - 13:27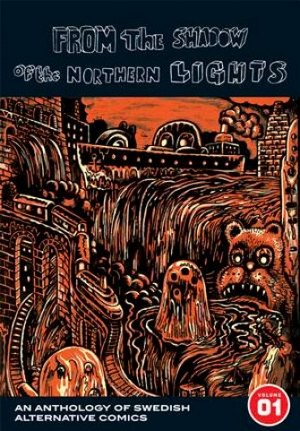 From the Shadow of the Northern Lights front cover by Marcus Nyblom.
Top Shelf Productions is distributing From the Shadow of the Northern Lights: An Anthology of Swedish Alternative Comics from publisher Galago. Galago began life in the late 1970's as a magazine of political satire; now, it apparently leads the Swedish alt-comix scene.
From the Shadow of the Northern Lights presents 200 pages of alt-comics and art comics both from Galago's talent pool and from Sweden in general. Most readers won't recognize names like Kolbeinn Karlsson, Marcus Ivarsson, and Sara Granér, but fans of short form alternative comics will recognize the sentiment of these comix. This collection resembles such graphic arts magazines as the art comics anthology, Blab!, Glenn Head's surreal anthology, Hotwire Comics, and the much-missed comic book anthology, Blood Orange. That means From the Shadow of the Northern Lights features small press type autobiographical tales, indie style dramas, expressionistic art comix, and a generous helping of avant-garde pieces.
Being a fan of autobiographical comics (even fake, autobio-like comics) and dramatic pieces, I found quite a bit to like: Mats Jonsson's " I Dated a Teenager" (like a Woody Allen movie); Anneli Furmark's moody, documentary-like "A Private Place;" and David Liljemark's Seinfeld-like "Henry Says." Two cartoonists offer quirky historical short comics: Liv Strömquist's "I was Stalin's Girlfriend" and Simon Gärdenfors' "Heliogabalus" (a Caligula shopping list). Two other cartoonists offer hair-raising cautionary tale travelogues: Henrik Bromander's "The World Wager," and Malin Biller's "Motorcycle Emptiness." Girls have social troubles in two excellent pieces: Loka Kanarp "The Party" and Åsa Grennvall's "A Useless Fag Hag" (which reads like Ellen Forney).
This anthology may be from Sweden, but American readers who already have an intimate knowledge of the kind of comics and art found in small press anthologies won't feel like they are strangers in a strange world anymore than they do when reading from the North American alternative comics scene. It seems that alt-comix/small press is an international language, and the creators from Sweden speak it well.
B+
Related sites:
www.topshelfcomix.com
www.galago.se
Last Updated: April 9, 2021 - 22:22