Fullmetal Alchemist: Volume 19
By Leroy Douresseaux
July 16, 2009 - 14:46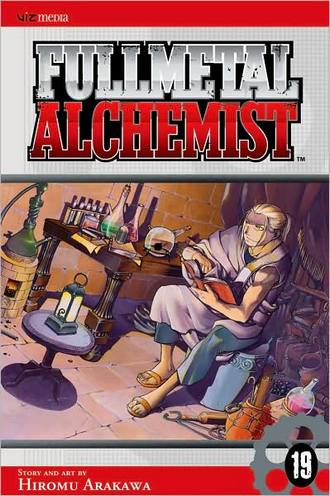 Fullmetal Alchemist Volume 19 cover image is courtesy of barnesandnoble.com
Rated "T" for "Teen"
Fullmetal Alchemist is set in Amestris, a country on an alternate-history Earth. The series focuses on brothers, Edward & Alphonse Elric. In a forbidden alchemical ritual gone wrong, Edward lost a leg, but Alphonse lost his entire body. Edward grafted his younger brother's soul into a suit of armor (which costs Edward an arm), and he replaced his own missing flesh with "auto-mail" limbs. Edward eventually became a state alchemist and continues to serve the Amestris state military. In the meantime, he searches for the Philosopher's Stone, a legendary substance that can restore the brothers' bodies.
In Fullmetal Alchemist, Vol. 19, the dreadful history of the Elric brothers' father, the man known as Von Hohenheim, is revealed. Ed battles the murderous Red Lotus alchemist, Solf J. Kimblee, to keep him from catching the rest of the members of Ed's new alliance. That alliance, which includes the Ishbalan assassin, Scar, makes a shocking discovery.
THE LOWDOWN: The alternate-history, military science fiction, occult conspiracy, war drama, fantasy, fight comic, and action thriller that is Fullmetal Alchemist can appeal to a broad cross section of manga readers. However, its dense narrative, complicated plot, large cast, and involved mythology can make it an imposing series for new readers to start anywhere other than at the beginning, and there are occasions in which the narrative just seems to come to a stop. On the other hand, most of the time, it's simply great, and I can't wait for the next volume, especially after a superb edition like Vol. 19. Full Metal Alchemist offers so much in terms of character, plot, and setting that it is addictive.
POSSIBLE AUDIENCE: Readers looking for an excellent science fiction/fantasy that is also accessible to teen readers will like Fullmetal Alchemist.
A
Last Updated: June 23, 2021 - 00:45