Fullmetal Alchemist: Volume 27
By Leroy Douresseaux
December 21, 2011 - 08:02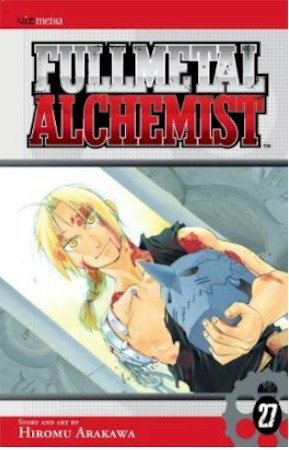 Fullmetal Alchemist Volume 27 cover image is courtesy of Anime Castle Books.
Rated "T" for "Teen"
Brothers Edward & Alphonse Elric engaged in a forbidden alchemical ritual in an attempt to bring their late mother back to life. However, the ritual went wrong causing Edward to lose a leg, while Alphonse lost his entire body. Edward grafted his younger brother's soul into a suit of armor, a process which also cost Edward his right arm. Edward replaced his own missing flesh with "auto-mail" limbs and eventually became a state alchemist in service of the Amestris state military. Edward searches for the legendary Philosopher's Stone, the one thing that can restore the brothers' bodies.
Fullmetal Alchemist, Vol. 27 opens in the middle of the final battle between the homunculus known as "Father" and the Elric brothers and their allies. Claiming victory, however, may mean that some will have to make the ultimate sacrifice. Will Ed and Al reunite with their father, Hohenheim? Will the Elric brothers be able to fully restore their bodies? And what will be the cost?
THE LOWDOWN: In all honesty, if you have never before read Fullmetal Alchemist before, this final volume is not for you. I can say that this absorbing character drama with all its conspiracy and intrigue is worth discovering. Fullmetal Alchemist is an exceptional military science fiction and fantasy, and Vol. 1 is in print and ready to begin you on your incredible journey. For readers familiar with it, Vol. 27 is a great finale.
POSSIBLE AUDIENCE: Readers looking for excellence in science fiction/fantasy manga will always find it in Fullmetal Alchemist.
A
Last Updated: August 31, 2023 - 08:12