Excel Saga: Volume 26 manga review
By Leroy Douresseaux
August 18, 2013 - 17:32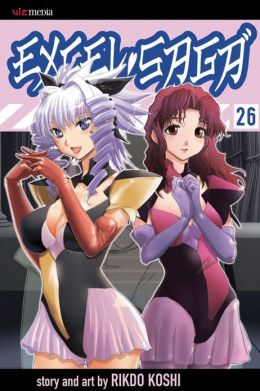 Excel Saga Volume 26 cover image is courtesy of barnesandnoble.com.
Rated "T+" for "Older Teen"
In an apartment building, in the city of Fukuoba, two groups of neighbors lead secret lives. In Across, Lord Il Palazzo and his minions are trying to take over Fukuoba. The employees of the Department of City Security (DCC), led by Dr. Kabapu (the Professor or the Mayor); think that they are trying to defend the city. These people are acting as if they are anime characters, but this is the manga known as Excel Saga.
As Excel Saga, Vol. 26 opens, Shiouji talks to Kabapu about his parents and tells the doctor that he thinks his father, Tenmangu Shiouji, is the mastermind behind everything. Meanwhile, DoCC's Matsuya, Iwata, Watanabe, and Sumiyoshi are still held at Across' underground headquarters. It is so hot there that Watanabe would settle for an air conditioner rather than freedom, but his search for relief and an air conditioner turns up a naked girl in a sci-fi container, instead.
The Seniors: Excel, Hyatt, and Elgala greet the return of their lord, Il Palazzo, but something is different about him. There are escapes and more returns, and Iwata goes to war. Plus, two important people arrive.
THE LOWDOWN: Just as I start to understand more about the Excel Saga manga, the pent-ultimate volume arrives. Excel Saga Volume 26 is packed with revelations, so much so that it is hard to believe that everything can be wrapped up in one more volume alone.
It is clear that Excel Saga creator Rikdo Koshi plans to deliver to his loyal, longtime readers a grand finale. Strange, it seems as if there are still crazy, but interesting plotlines developing for the long term.
POSSIBLE AUDIENCE: Fans of anime spoofs will like Excel Saga.
Rating: B /10
Last Updated: June 23, 2021 - 00:45