Elenora Mandragora: Daughter of Merlin comics review

By Leroy Douresseaux
November 20, 2017 - 21:51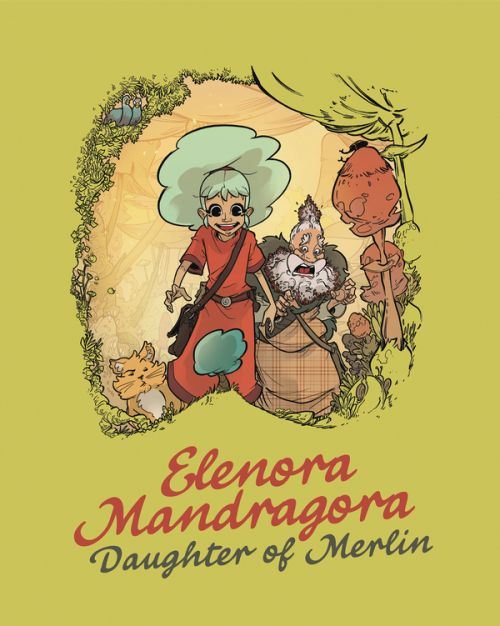 Elenora Mandragora: Daughter of Merline cover image
Age 10-17; Grades 5-12
Elenora Mandragora: Daughter of Merlin
is a full color, hardcover graphic novel recently published by IDW Publishing. Written by
Severine Gauthier
and drawn by
Thomas Labourot
, Elenora Mandragora: Daughter of Merlin is French comic book originally published as a graphic album, entitled
Aliénor Mandragore – Merlin est mort
, vive Merlin! by Paris-based publisher, Rue de Sèvres. The IDW edition has a trim size of 8¼" x 10¾" and comes in at 60-pages long.
Elenora Mandragora: Daughter of Merlin
focuses on
Elenora
, the daughter of
Merlin
the wizard. Merlin is the greatest druid in the forest of
Broceliande
, and he spends most of his time in his "
Mushroomery
," a dank and dark place in the woods where a variety of mushrooms grow. Elanora lives with her father, but the impish and undisciplined girl has no interest in "druiding," which her father insists on teaching her. Elenora has no talent for magic.
That all changes one day when Elenora does something that kills her father. However, Merlin's ghost is determined not to stay dead, and it falls on Elenora to befriend the one person who may have the ability to revive Merlin. That would be her father's greatest rival,
Morgana
the fairy magician and sorceress.
THE LOWDOWN:
IDW's press materials for
Elenora Mandragora: Daughter of Merlin
compares this graphic novel to the work of legendary creators of stories for children: author Roald Dahl; animated filmmaker, Hayao Miyazki; and American legend and mogul, Walt Disney. I am quite versed in Miyazaki and Disney, but I have only read two Dahl books (that I remember), and with that experience, I can still say that IDW is not far off with such comparisons.
Elenora Mandragora: Daughter of Merlin is a fantastic comic book and original graphic novel. I think middle school students who read fantasy literary will likely enjoy this. I think older teens and high school students familiar with comic books will also enjoy this graphic novel.
It is not perfect; there are some oddly extraneous characters in the story, characters I am assuming will be important in later Elenora Mandragora adventures. However, the three core characters: Elenora, Merlin, and Morgana form a solid trinity of motivations, desires, conflicts, rivalries, back story, and endearment. They are the powerful engine that drive this engaging and magical story of fathers and daughters and mentors and students. This is a love triangle, of sorts, that propels this wonderfully inventive comic book.
Elenora Mandragora: Daughter of Merlin is infused with a sense of magic, and the setting is a place to which you will want to return, even if only in your dreams. And the characters – you will want to visit with them again... and again.
I READS YOU RECOMMENDS:
Elenora Mandragora: Daughter of Merlin
is a perfect graphic novel for young readers and also for readers young at heart.
9 out of 10
A
Rating: 9 /10
Last Updated: September 6, 2021 - 08:15