DC Comics Looks to Push More "Air"
By The Editor
June 12, 2008 - 04:27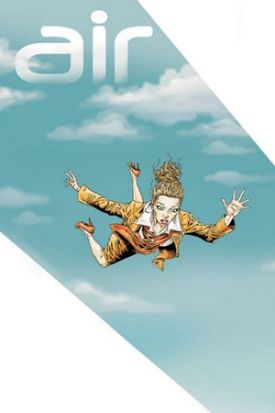 Air #1 cover
VERTIGO'S NEW SERIES AIR DEBUTS WITH SPECIAL ORDERING INCENTIVES ON ISSUES #1-5

This June, readers will learn that the skies are not what they think when the debut issue of the new monthly Vertigo series AIR touches down in stores. Writer G. Willow Wilson and artist M.K. Perker, the creative team behind the critically lauded graphic novel Cairo, take flight with this thriller that mixes conspiracy, action and science-fiction.

"I edit very few monthly comics these days, but this one offered something so fresh and different that I had to work on it myself," says Karen Berger, Senior VP – Executive Editor, Vertigo. "A fantasy thriller based in the real world and full of intrigue, adventure, technology and a bit of romance, AIR should appeal to both regular comics readers and to those who don't normally read comics."
DC Comics introduces AIR with a special retailer ordering incentive. Qualifying retailers may make full returns on this issue at a date to be named later.

In addition, DC will extend this ordering incentive for issues #2-5, covering the entire first story arc of the series.

Retailers may qualify for this offer as follows:

DC Comics Retailer Discount Minimum Qualifying order

35% 2 copies
50% 5 copies
53% 8 copies
55% 10 copies
56% 15 copies
57% 20 copies

For example, a retailer with a 50% DC Comics discount must order a minimum of 4 copies of AIR #1 to qualify for full returnability.

The offer is valid through the Final Order Cutoff date of July 31, only in the U.S., Canada and the U.K. DC will announce the return window for this issue at a later date.

AIR #1 is solicited in the June Previews and is scheduled to arrive in stores on August 20.


Last Updated: June 23, 2021 - 00:29