Comics / Comic Reviews / Comic Strips
Hank Ketcham's Complete Dennis the Menace: 1953-1954
By Leroy Douresseaux
August 20, 2007 - 07:03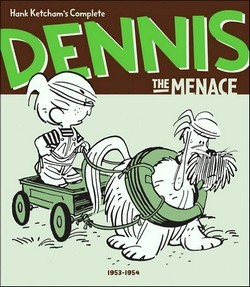 Thanks to barnesandnoble.com for the image.
HANK KETCHAM'S COMPLETE DENNIS THE MENACE: 1953-1954
FANTAGRAPHICS BOOKS
CARTOONIST: Hank Ketcham
EDITOR: Gary Groth
DESIGNER: Jacob Covey
ISBN: 156097725-6; hardcover; 5½" x 6¼
672 pp., B&W, $24.95
One of the recent entries in Fantagraphics Books' line of complete reprintings of American comic strips is Hank Ketcham's Complete Dennis the Menace: 1953-1954 (Vol. 2). The reader will not need this volume's introduction by comics historian and author R.C. Harvey (entitled "Hank Ketcham, Stylist Supreme") to appreciate the cartoonist, Hank Ketcham, or his creation, the long-running single-panel comics strip, Dennis the Menace, one of the most popular comics series to ever run in American newspapers. (A gentle reminder: it's always worth reading an R.C. Harvey introduction.)
The eternally five-and-a-half-years old Dennis Mitchell has entertained newspaper readers for over 50 years, while simultaneously menacing his parents, Henry and Alice Mitchell, their neighbors, friends, houseguests, delivery men, etc. Since that time a growing legion of cartoonists, scholars, aficionados, etc. have come to appreciate the artistry of Dennis' creator, Hank Ketcham. Ketcham's beautiful artwork defines cartooning elegance. The design, the composition, and the line: it's all too, too beautiful.
Matching his skills as an artist, Ketcham was also a brilliant gag writer and creator of comic scenarios. It's hard to read two years of comic strips and not be overwhelmed by the fact that even when he touches on familiar themes, he doesn't repeat himself. One of those themes which Ketcham hits upon repeatedly in Dennis the Menace is the embarrassing honesty of a child. I counted well over 50 incidences in this volume in which Dennis causes his parents painful moments of discomfort or embarrassment because Dennis, lacking the social skills to remain silent in order to spare another's feelings, blurts out painful honesty and truth.
In the episode for January 9, 1953, Dennis tells his mother, Alice, in front of a guest, "I showed Mrs. Taylor your new coat, Mom, but she didn't turn green with envy like you said she would!" In the July 22, 1953 episode, Dennis's neighbor, Mr. Wilson, who has suffered long and hard under the reign of Dennis, is wearing shorts and a t-shirt while washing his car. Upon seeing Mr. Dennis beer belly, Dennis asks, "Can I see your spare tire, Mr. Wilson? Dad says you've got the biggest one in the block." It's amazing because those lines would be fun without Ketcham's fantastic art, yet year after year, Ketcham used similar scenarios and kept this Dennis fresh and vital.
Perhaps, Dennis the Menace wasn't the first daily comic that came to mind when people thought of newspaper comics in need of a comprehensive reprint series, but Fantagraphics' spectacular effort will make Ketcham/Dennis appreciators of us all.
Menace the Amazon aStore.
Last Updated: June 23, 2021 - 00:45