Comics / Comic Reviews / Comic Strips
Hank Ketcham's Complete Dennis the Menace: 1955-1956
By Leroy Douresseaux
August 26, 2007 - 22:23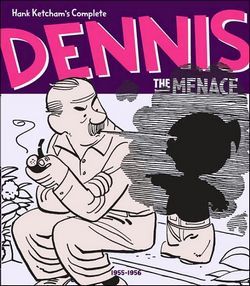 Thanks to barnesandnoble.com for the image.
HANK KETCHAM'S COMPLETE DENNIS THE MENACE: 1955-1956
FANTAGRAPHICS BOOKS
CARTOONIST: Hank Ketcham
EDITOR: Gary Groth
DESIGNER: Jacob Covey
ISBN: 1-56097-770-1; hardcover; 5½" x 6¼
654 pp., B&W, $24.95
Like the two previous volumes, there is a lot to like in Hank Ketcham's Complete Dennis the Menace: 1955-1956. Hank Ketcham is much admired for his meticulously and elegantly composed single-panel cartoons. Others are also impressed by how much of a great gag cartoonist Ketcham was for so long on Dennis the Menace. Two other notable things about the venerable strip are its star and setting – an incorrigible boy who exercises his misbehavior in a safe, idealized world that so many of us wished actually existed.
Did something like that happy, safe world portrayed in such TV series as "Father Knows Best," "Leave it to Beaver," or "My Three Sons" – all similar to the one portrayed in Dennis the Menace – actually exist? Or were such bucolic middle class neighborhoods merely constructs similar to Walt Disney's idyllic small town America? I've met people who say that such a perfect time (the "Good Ol' Days) and place existed from the 1950's to the early 1960's. I often wonder if they combined the good times of their lives with the movies, television series, comics, etc. they enjoyed, and therefore there memories recall a time and place that wasn't actually as golden as their memories suggest.
I see this in the heavenly world where Dennis fearlessly pull pranks on policeman without getting the Rodney King treatment in response. Here, Dennis spends time being a pal with the neighborhood mailman, who wasn't a surly civil servant. Imagine a world where a five-year old boy can wander main street – alone – harassing shop owners, barbers, and shoppers without the thought of being harmed or snatched. Seeing Dennis hang out in the park with young sailors (themselves barely out of boyhood), who treat him like another pal, boggles my mind. My mind automatically asks, "Where are his parents?"
I love this happy place where Dennis lives. In the hands of Ketcham, master artist and exceptional gag writer, Dennis can entertain us in a beautifully drawn world that is funny… and safe. As a reviewer, I'm trying to convince you to buy this Complete Dennis the Menace series because you'll be entertained, you'll marvel at Ketcham's immense talent, and you'll really want to live in the perfect, "Happy Days" world he created for Dennis.
Buy the Menace at the Amazon aStore.
Last Updated: January 24, 2022 - 11:00