Claymore: Volume 13
By Leroy Douresseaux
November 15, 2008 - 14:44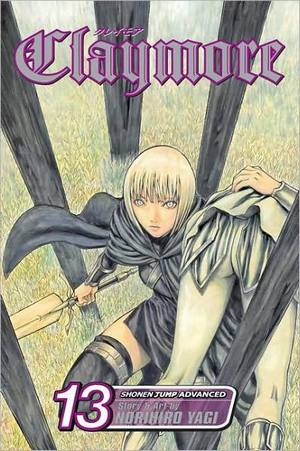 Claymore 13 cover image courtesy of barnesandnoble.com.
Rated "T+" for "Older Teen"
On a medieval-like world, a long war between monsters called "Yoma," and the female warriors that fight them, called "Claymores," rages on without end. Yoma not only prey upon humans, they also live among them disguised as people. The Claymores (named for the immense broadswords they wield) are silver-eyed warriors: half-human, half monster, and possessing supernatural strength. Powerful enough to fight the Yoma, Claymores must keep their savage impulses in check, or they will turn into monstrous creatures called the "Awakened Ones."
In Claymore, Vol. 13, Claymores, Audrey and Rachel continue their battle against Riful of the West, an Awakened One. Seven years after the Battle of the North, Clare and her six comrades end their isolation and move south where they come upon a new group of Claymores battling the Three Great Awakened Ones. Also, Clarice and her young charge Maita, a powerful and specially bred Claymore, are sent on a mission to find and kill the rogue warrior, Galatea.
THE LOWDOWN: Coming into the middle of Claymore is difficult for a new reader. Not only is it a character-heavy fantasy/drama, it's also heavy with sub-plots and conspiracies. Call Claymore "machinations in a box," but the reader will need a scorecard of characters and plotlines. That aside, the high-flying, sword-swinging action, sequences are brilliantly composed by creator Norihiro Yagi, and the inventive monster designs – both the Yoma and the Awakened Ones – are genuinely chilling.
POSSIBLE AUDIENCE: Readers who enjoy "Shonen Jump" titles like Bleach Kekkaishi will like Claymore.
B
Last Updated: June 23, 2021 - 00:45