Captive Hearts: Volume 3
By Leroy Douresseaux
February 26, 2009 - 10:32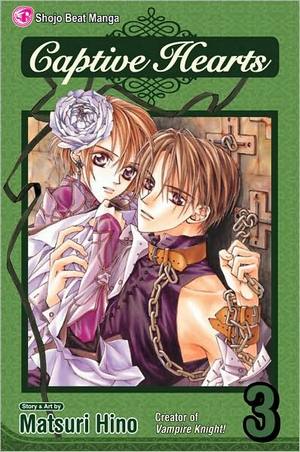 Captive Hearts 3 cover image is courtesy of barnesandnoble.com.
Rated "T" for "Teen"
Megumi Kuroishi and his father, Yoshimi, were living a life of luxury in the Kogami Family mansion. The last of the Kogamis, whom Yoshimi had loyally served for 30 years, disappeared several years ago. Then, one day, the last surviving member, a teen girl named Suzuka Kogami, walked through the door, and Megumi found himself kneeling before her. For the first time, Megumi learned that because of a family curse, the Kuroishis must serve the Kogamis, but the feelings Megumi has for Suzuka may have nothing to do with a curse.
In Captive Hearts, Vol. 3, both the recent and distant past are uncovered to reveal the beginnings of relationships and especially the origin of the curse of the Dragon God that binds Kuroishi to Kogami. Yoshimi recounts the beautiful story of Princess Haya and the thief Arashi "Kuronekomaru" Kuroishi, and how loneliness, family obligation, and tragedy led to an unbreakable bond. Or is it unbreakable? Megumi goes on a quest for a cure for the curse with hilarious results. An old friend of his also returns, and she's looking for a fight!
THE LOWDOWN: I never held out much hope for Captive Hearts, as its premise – about a young man madly in love with a young woman that he is cursed to serve for the rest of his life – seemed like it couldn't generate more than three tankoubon (volumes) worth of stories. Yet, here we are with a third volume of stories (and more to come), and Captive Hearts seems ready to birth more tales of silly supernatural romance. What makes this series steadily improve is that creator Matsuri Hino uses flashbacks and, in a story included here, historical retellings to put not so much the curse, but the people affected by the curse and their relationships with one another in context.
Captive Hearts also has a steadily growing and good supporting cast, and Hino will occasionally use a particular chapter or storyline to define a character, explaining his history and giving him motivation. The art by Hino (the creator of the popular Vampire Knight) is also quite good. There are pages of swirling and layered textures, patterns, and toning that is on par with queen of rococo frills, Arina Tanemura (Full Moon).
POSSIBLE AUDIENCE: Fans of romantic shojo manga with heavily-detailed and toned art will enjoy Captive Hearts.
B+
Last Updated: June 23, 2021 - 00:45