Comics / Comic Reviews / Marvel Comics
Captain Britain and MI: 13 #1
By Leroy Douresseaux
August 14, 2008 - 18:41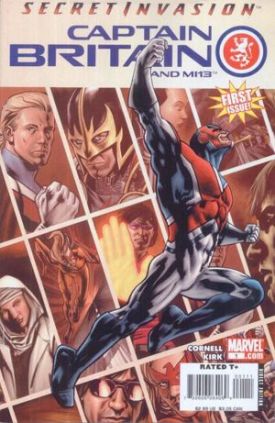 Cover for issue #1, first printing
Marvel Comics superhero Captain Britain (A.K.A. Brian Braddock) was created by Chris Claremont and Herb Trimpe and apparently first appeared in Captain Britain Weekly, #1 (October 13, 1976). More or less the British equivalent of Captain America, Captain Britain was endowed with his powers by the legendary magician Merlyn and his daughter Roma and was assigned to uphold the laws of Great Britain. The best or most memorable comics featuring Captain Britain were created by writer Alan Moore and artist Alan Davis, with Davis creating several years of Captain Britain comics on his own.
Captain Britain and MI: 13 returns the character to the ranks of monthly comic books. This new series, written by Paul Cornell and drawn by Leonard Kirk, spins out of the Marvel Comics crossover event, Secret Invasion. Captain Britain, Pete Wisdom and other British superheroes are drafted into the service of MI: 13, a British Secret Service division. Captain Britain and MI: 13 #1 opens with the Skrull (shape shifting aliens) onslaught on Britain. Captain Britain, Black Knight, Spitfire and others take on the Super Skrulls (Each Super Skrull can imitate the powers of multiple superheroes).
THE LOWDOWN: It debuted to good reviews and sellouts of the first few issues, but when it comes to Captain Britain and MI: 13, don't believe the hype – at least not yet. Marvel Comics has spent the last several years hiring television writers to write their comics – with some surprisingly good results. British TV writer Paul Cornell likely got assignments from Marvel because of his work on the "Doctor Who" television series.
For all that he may impress Marvel decision makers with his TV work, Cornell offers a first issue of Captain Britain and MI: 13 #1 that is simply an extended fight scene, in which glib banter passes for characterization. It's not bad; it's just so stunningly pedestrian – especially for a superhero comic book. The most imaginative thing about this issue is John the Skrull, a skrull that has been living in the guise of John Lennon since the early 1960's. Other than that, where's the imagination and kooky ideas that comic books at which comic books are so good? This just reads like an excerpt from a video game script.
POSSIBLE AUDIENCE: People who impulsively buy Marvel Comics or their crossover events or Captain Britain are the only ones who may "need" this.
C
Last Updated: June 23, 2021 - 00:45