Boys over Flowers: Jewelry Box
By Leroy Douresseaux
October 7, 2009 - 11:30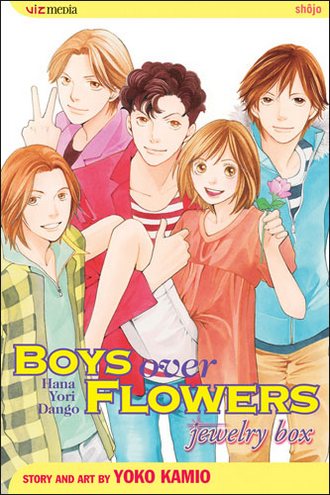 Boys over Flowers Jewelry Box cover image is courtesy of barnesandnoble.com.
Rated "T" for "Teen"
Boys over Flowers: Hana Yori Dango, a shojo manga from creator Yoko Kamio, ended with its 36th volume. Boys over Flowers was the story of Tsukushi Makino, a girl from a poor family, who attended an elite school for the super rich.
Eitoku Academy is an escalator school for kids from rich and high society families. Tsukushi ran afoul of the "Flower 4" (or F4), a group of students who apparently ruled the school. Tsukushi was the target of their bullying, but she took them on, and in time, F4's leader, Tsukasa Domyouji, took a liking to Tsukushi. The two began dating, but Tsukasa is the son of the richest and most powerful family in Japan. His mother began interfering in the relationship, but the young couple persevered. After graduation, new obligations forced Tsukushi and Tsukasa apart, but they maintain a long distance relationship.
Their story was officially over, but Yoko Kamio returns with Boys over Flowers: Hana Yori Dango – Jewelry Box. This stand alone book contains two short stories that take place a year after the end of Boys over Flowers, Vol. 36 and also a section of back matter about important events in the series.
In the opening story, Tsukushi rushes to Paris for the wedding of her friend Shizuka, but waiting for her are two surprises – one really good and one really, really bad. In the second story, the two-part "Shall I Talk About Myself?" Rui Hanazawa, the other boy who loves Tsukushi, confronts his feelings, while Tsukushi and Tsukasa flirt with engagement.
THE LOWDOWN: This is the first time I've ever read Boys over Flowers, although I'd heard of it, and I also assumed, because of the title, that it was a boys' love series. I find the material to be standard shojo manga (comics for teen girls), complete with unrequited love, unspoken love, class conflict, self-doubt, rivalries, a love triangle, jealousies, confusion, etc. What makes Boys over Flowers stand out is in the telling.
Yoko Kamio's drawing style is typically beautiful (for shojo, that is), which is what can be expected from talented illustrators, but there is a quirky twist to what Kamio does that makes Boys over Flowers delightfully familiar, yet also oddly different. It seems that disappointment and heartbreak lurk in the undercurrents of this narrative, as if each character can see out of the corner of his eye a chance that a happy ending could become happiness at an end. This is a level of depth and difference that makes Boys over Flowers worth reading.
POSSIBLE AUDIENCE: Longtime readers of the series will want Boys over Flowers: Jewelry Box.
B+
Last Updated: June 23, 2021 - 00:45