The Confessions of Frannie Langton book review
By Leroy Douresseaux
June 9, 2019 - 13:30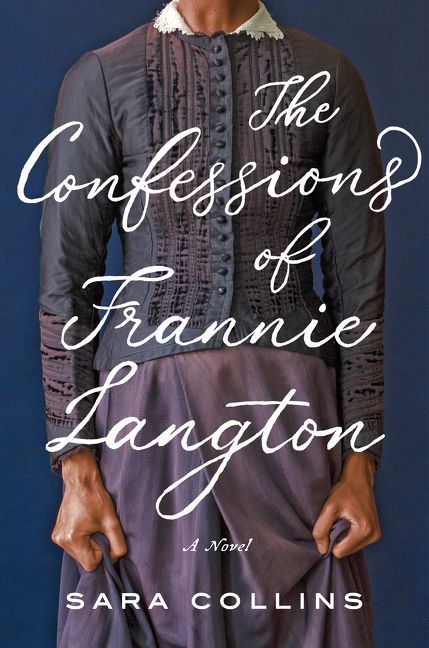 The Confessions of Frannie Langton cover image
The Confessions of Frannie Langton
is the debut novel of author
Sara Collins
. This historical novel and murder mystery, which is set largely in the 1820s and in Georgian London, focuses on a servant and former slave accused of murdering her employer and his wife.
The Confessions of Frannie Langton
opens on April 5, 1826 in London, at "
The Old Bailey
" (the common name for the Central Criminal Court of England and Wales).
Frances "Frannie" Langton
, a mulatto Black woman, is accused of double murder.
London
is abuzz with this scandalous case in which renowned scientist,
George Benham
, and his eccentric French wife,
Marguerite "Meg" Benham
(the former Marguerite Delacroix), were murdered in their home,
Levenhall
. Huge crowds pack the courtroom to hear the tawdry details of two White people brutally, repeated, and savagely stabbed by this mysterious Negress to whom the late couple gave a home and a job after she was turned out by her previous master.
But there is always more... more... more to such stories. For that, we travel back in time to the period of 1812 to 1825. Frannie Langton was once a slave on a plantation in Jamaica, called "
Paradise
." Her owner,
John Langton
, had scientific ambitions, and he was determined to prove his theories about race, particularly about Black people and about Black Africans.
Frannie may claim that she cannot recall what happened that fateful evening of the Benhams' deaths – even if remembering could save her life. However, she does have a tale to tell, and it begins with her childhood on that Jamaican sugar plantation. It continues to her apprenticeship under John Langton, cruel master turned debauched scientist, stretching all bounds of ethics. Then, the story moves into the Benhams' London home, where Frannie finds a wannabe scientist who may be as bad as Langton and where she also finds a passionate and forbidden relationship. The newspapers say Frannie is a seductress, a witch, a master manipulator, and a whore, when she may simply be a Black woman trying to make her own way in a racist world.
THE LOWDOWN:
When HarperCollins offered a galley review copy of The Confessions of Frannie Langton, I jumped at asking for a copy, especially after reading the cover copy. However, The Confessions of Frannie Langton turned out to be one of the most difficult reads that I have encountered in well over a decade.
The depiction of slavery and of forced servitude in The Confessions of Frannie Langton is so vivid and horrifying. It's like combining the screenplays for 12 Years of Slave and Birth of a Nation (2016 version, of course) squeezed into one heartbreaking novel. What Sara Collins offers in The Confessions of Frannie Langton is certainly a brilliant, searing depiction of race, class, and oppression. This novel, however, offers even more; it is a historical thriller and literary indictment with ambitions to be as entertaining as any other literary thriller.
Collins offers wisdom and insight into the way both the oppressors and the oppressed are forced to live their lives. Such perceptiveness is revealed in lines like "... 'cause you got white hopes. I got Negro expectations." (as said to Frannie by Sal, her friend and fellow sex worker) or "The very woman who'd spit in your porridge in the morning could be fornicating with your husband at night." As if she were a venerable, elderly Black woman storyteller, Collins has uncanny insights into the perilous and fraught lives of Black woman who are property or who are technically not property, but are really property for all intents and purposes.
Perhaps, we love people because we view them through a lens of being people who make us feel a certain way. Frannie becomes attached to or falls in love with people who view her as being property that makes them feel a certain way. In order to convey that stark and sometimes subtle difference, a writer needs to be a superior storyteller and also needs to have a command of prose. With her first novel, Sara Collins' mighty storytelling and command of prose take her to the summit of literary heights. I would be surprised if The Confessions of Frannie Langton did not become a staple of college literature courses within five years.
The Confessions of Frannie Langton is an incredible novel with a kind of terrible power. This is the power needed to convey the horrors experienced by Africans enslaved in the Western Hemisphere and also by those forced to inherit the status of their enslaved parents, grandparents and ancestors.
I READS YOU RECOMMENDS:
Readers looking for the standout novels of the year will want to hear
The Confessions of Frannie Langton
.
A+
10 out of 10
Rating: 10 /10
Last Updated: September 6, 2021 - 08:15