Aya of Yop City
By Leroy Douresseaux
July 2, 2009 - 12:54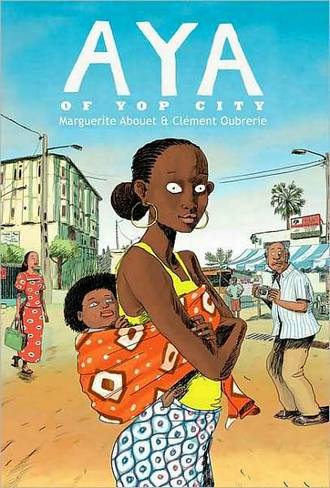 Aya of Yop City cover image is courtesy of barnesandnoble.com.
With their graphic novel, Aya, writer Marguerite Abouet and artist Clément Oubrerie, transported readers back to Africa's Ivory Coast in the late 1970s. There, Abouet and Oubrerie introduced a cast of characters that lived in and around Yopougon, or Yop City, a working class neighborhood in the city of Abijan. The star of this colorful ensemble was Aya, a studious, middle class girl whose levelheaded ways were in stark contrast to her contemporaries.
Aya and friends return in Aya of Yop City (published in 2008 by Drawn & Quarterly), and the funny, lighthearted melodrama of their lives is heating up – in some cases, boiling over. Poor Aya is in the center of a storm of personal calamities. Her friend, the new mother Adjoua, has been relying on her friends to help with her new baby boy, Billy, but Aya, much to her father Ignace's chagrin, seems to be bearing most of the burden (though she apparently doesn't mind). Meanwhile, Bintou hardly has time for her homegirls, what with her chasing a mysterious Parisian boyfriend.
Meanwhile, Ignace must confront a downturn in Solibra beer sales, and as a Solibra branch office manager, he must also face cutbacks, which cause a peculiar employee problem. Ignace's boss, Bonaventure Sissoko is breaking his son Moussa into the family business with mixed results. Meanwhile, the young people of Yop City prepare for the Miss Yop beauty contest, and Aya gets her own beauty of a surprise.
While Aya of Yop City isn't a great work, it is great that something like it is available to comic book and graphic novel readers in North America. Yop City is certainly a good read, but it lacks the newness of the first book. This second volume feels exactly like that, a second volume – the middle part of story, so the narrative here sometimes drifts aimlessly. In fact, some of the subplots are merely set-ups for what will hopefully be scandalous conclusions in the third book. This is an entertaining read, but much of it feels half-finished.
However, Clément Oubrerie's brightly lit color art is in perfect synch with Marguerite Abouet's script, and actually enhances it with Oubrerie's expressive depictions of his characters' faces. He draws these bulging white eyes with only a pin point for the iris, but these eyes convey so much about a character and a moment in a way that defies explanation.
Reservations aside, it's still good that Western readers have access to Aya. [Aya of Yop City was originally published in France by Gallimard Jeunesse.] Here is a depiction of working and middle class Africans living, loving, working, and playing. They're professional people, housewives, ambitious students, talented automobile mechanics, etc. And they don't need a Bono charity event to help feed them.
Aya of Yop City also has a section at the end of the book full of delight extras, including a recipe, and also an interview with Marguerite Abouet.
B+
Last Updated: June 23, 2021 - 00:45