Comics / Manga / Yaoi Manga
A Strange and Mystifying Story: Volume 2 (Yaoi)
By Leroy Douresseaux
September 7, 2009 - 19:41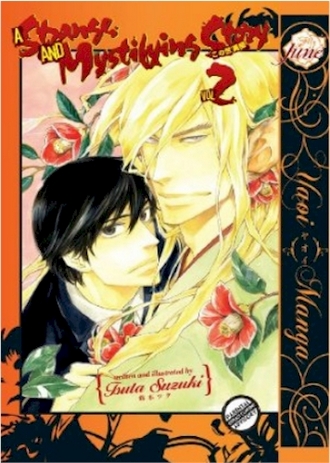 A Strange and Mystifying Story Volume 2 cover image is courtesy of Anime Books.
Drama/Romance; Rated "18+ Mature"
Akio Yamane has fallen ill to the same mysterious disease that has killed off his family's bloodline. Akio was determined not to fall victim to this tragic family curse, but he suddenly turned ill and was coughing blood. He makes a desperate wish for salvation, but this inadvertently summons the spirit of a strange man-beast. With the tail and ears of a wolf, this beast named Setsu has apparently protected Akio's family in the past. Now, Akio learns that with a kiss, Setsu can draw the disease from his body. He is repulsed by Setsu's probing tongue and fiery touches… or is he?
As A Strange and Mystifying Story, Vol. 2, opens, Akio is contemplating his relationship with Setsu. He remains appreciative of what Setsu has done for him, rescuing him from certain death and continuing to devour the disease that still ravages his body. However, Akio believes that Setsu is taking advantage of him by exercising his seemingly insatiable lusts on Akio's body. Setsu's tumultuous lovemaking leaves Akio tired and his backside hurting.
But can Akio afford to reject Setsu? What if the mysterious disease returns and Setsu is not around to literally suck the black bile-like substance from his body? Besides, Akio wonders if the truth is that he really craves Setsu's touch.
THE LOWDOWN: In yaoi manga, stories highlight romantic love between two male characters, often with explicit depictions of sex. A Strange and Mystifying Story is a yaoi manga about a male human and a male were-human. Although creator Tsuta Suzuki has written an entertaining romantic drama that sometimes offers fascinating character moments, the attraction here is Akio and Setsu's sex scenes. Enjoying the visual depiction of Setsu manhandling Akio is way more entertaining than reading the rest of the story, as well done as it is. A yaoi manga that can offer romance and hot sex is a winner, and this second volume of A Strange and Mystifying Story may not be perfect, but it sure is a winner.
POSSIBLE AUDIENCE: Yaoi readers who enjoy supernatural romances that don't skimp on sex will enjoy A Strange and Mystifying Story.
B+
Last Updated: June 23, 2021 - 00:45