Amefurashi: The Rain Goddess Volume 1
By Leroy Douresseaux
July 9, 2009 - 10:32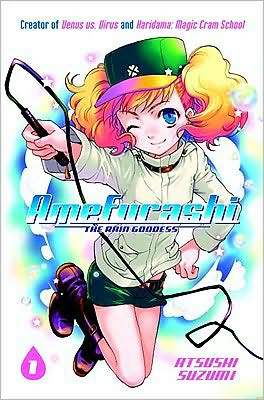 Amefurashi Volume 1 cover image is courtesy of barnesandnoble.com.
Rating "T" for "Ages 13+"
Gimmy is a teen inventor living in a desert town. He is known for his ability to repair things, but the village elder chooses him to build the next offering for the local Amefurashi (rain goddess). That unfortunate assignment brings Gimmy face-to-face with the Amefurashi, a sassy deity named Sora.
In Amefurashi: The Rain Goddess, Vol. 1, Gimmy is assigned the task of creating the next offering to the local rain goddess, and it's something he's never before made – a doll! Trying to help their big brother, Gimmy's twin brother and sister, Mel & Mil, pretend to be the doll offerings. While searching for the twins, Gimmy climbs the sacred nimbus tree, (a giant tree with clouds for feathers) where the rain goddess lives. There he meets the impish and feisty Sora, but the rain goddess isn't happy to see him. She won't return the twins to Gimmy, but when Ciel, another Amefurashi, threatens Sora's nimbus tree, Sora suddenly needs Gimmy.
THE LOWDOWN: While its rating suggests that this is a book for readers 13-years-old and older, Amefurashi, with its uncomplicated concept and narrative, is safe enough for younger readers. It mixes elements of both shojo (comics for teen girls) and shonen (comics for teen boys) manga. The narrative moves around a lot, which will hold even the most restless young attention spans. Most impressive is how creator Atsushi Suzumi even manages to make each panel lively. This a quick painless read for adult readers, and it actually has a nice cliffhanger that piqued my interest. This is not great work, but the making of this manga was certainly inspired.
POSSIBLE AUDIENCE: A kodomo manga, Amefurashi is a good manga for children.
B
Last Updated: June 23, 2021 - 00:45