Comics / Comic Reviews / More Comics
The Legend of Wild Man Fischer - Top Shelf
By Al Kratina
January 23, 2008 - 18:47
The word "retard" rarely enters into discussions of outsider art, which I find unusual. After all, the exploitative and condescending attitude many adopt towards work created by the developmentally challenged or mentally ill is so base, so crass, that it's surprising no one drops the 'tard-bomb in polite conversation. After all, anyone with half a brain can tell that William Hung needed medication more than a recording contract, but his execrable album was still lapped up like honeyed cream in a senseless, frenzied mockery of the poor fellow. But rarely, outsider music actually is a work of genius, made by genuinely talented individuals who happen to be, shall we say, different. Such is the case with brilliant sci-fi ramblings of Roky Erikson and the case of Wild Man Fischer.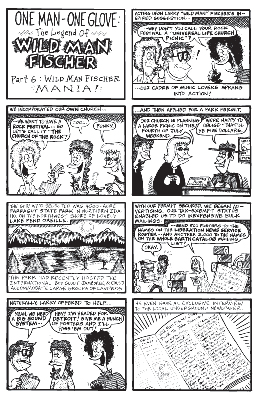 Wild Man Fischer, often described as a paranoid schizophrenic, was discovered by Frank Zappa while singing on the street for spare change. He recorded four albums from 1968 to 1984, mainly on Rhino Records, and has amassed a small but passionate cult following. After his first record, 1968's An Evening With Wild Man Fischer, the singer was somewhat of a sensation in bohemian circles before the hippies sobered up and Fischer's eccentricities and habit of inappropriate defecation took the bloom off the rose of his career.
Written and illustrated in the style of 70s underground comix, Top Shelf's The Legend of Wild Man Fischer fits its counterculture subject perfectly. And best of all, it neatly sidesteps those thorny issues of exploitation by creating a warm, personal, and honest impression of Fischer. The majority of the book is composed of short anecdotes by Dennis P. Eichhorn, who put together a Wild Man Fischer tour in the 1970s. Illustrated by J.R. Williams, they catalogue a host of insane, amusing, and occasionally scatological Wild Man Fischer stories, all recounted in a perpetually bemused and mildly consternated tone. The comic pages, originally printed as an issue of Real Stuff in the 1990s, are further contextualized by prose pieces by various authors, which provide background information as well as Fischer's reactions to the comic's original publication. It's a dense read, and a bizarre one, but it's surprisingly accessible and always entertaining, like any good William Hung single should be.
Rating: 7 on 10
Last Updated: May 19, 2020 - 12:25