Comics / Comic Reviews / More Comics
Bughouse: Scalawag
By Andy Doan
May 14, 2008 - 22:20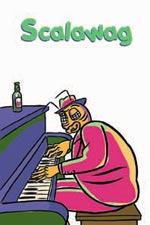 Bughouse: Scalawag
A collection of stories about a popular four piece jazz combo from the nineteen twenties. It follows their ups and downs as individuals during a cross country tour. Drop outs, death, drug addiction and love triangles are just a few of the stereo typical problems that come with the life of a musician. The reader is taken first hand into the lives and minds of each character in the the story. Only one real question remains after finishing the novel. Why is everyone an insect?
The narrative is fast paced and thorough. The transitions are smooth and nothing is left unresolved. I felt that there were a few timing issues at the beginning of the book until I got used to the authors voice, they became less noticeable as the story went on. I also found the dream sequences to be a little jarring and confusing initially. I came to the conclusion that this was likely intentional in order to help the reader get into the mind of the particular character. All in all it was a very easy book to read and only took me the better part of an hour to finish.
The art work is wonderful. The style lends itself well to the period that that the story takes in. Although you are looking at humanoid bug creatures you'll forget after the first few pages as the melodrama heats up. You might think that it would be hard to show feelings in the face of a large eyed insect with antenna sticking out of it's head, somehow they find a way. The way the artist almost animates the music sequences help you hear the jazz music in your head as the dialog slips into the background. The backdrops from panel to panel help you get into the groove of the era.
I can't admit to being a big fan of jazz music. It's the kind of thing that I'll listen to and enjoy if it's playing but I've never had a real desire for it. After reading this book I think I might try to find a smoky little shoe box downtown and order myself a vodka martini.
Last Updated: June 23, 2021 - 00:45