Review: Rise of the Tomb Raider

By Sean Booker
November 30, 2015 - 11:38
Rise of the Tomb Raider follows up 2013's reboot by expanding on everything and leading to an incredibly fun experience. The cinematic set pieces have been dialed down but, in exchange, has given us far larger areas of exploration. Raiding tombs is much more common this time around. The story remains strong throughout and with a great deal of meaningful progression you will be enjoying this game from start to finish.
Now a seasoned explorer, Lara Croft sets out to finish her father's last mission. This will take you all over the world as you explore different environments and challenges. The globe spanning archeological similarities to Uncharted are still present. The fast paced set pieces are here but far less common. With toned down death animations the game focuses more on traversing large areas and exploring ever inch of the game.
These areas of exploration are a welcomed difference from the previous game. The game isn't a fully open world but more akin to a series of large sandboxes. 2013's game was quite linear whereas now you will encounter large structures or forested areas that you can climb, grapple, and move throughout. This allows for a huge amount of content to explore and the number of collectibles will greatly help incentivize. Taking on enemy ranks is a blast since you can use your varied surroundings nicely when fighting or stalking from the shadows (quite similar to the Assassin's Creed series). These big 'playgrounds' are a lot of fun to be in.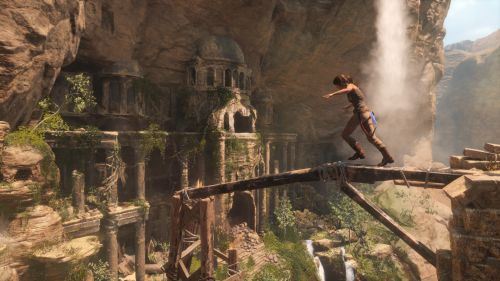 Rise gives you a great reason to explore as much as you can. Finding new areas, relics, caves, etc. will reward you with experience. Fighting enemies will also do so and more points will be awarded by completing different types of kills in succession. Everything you do gives you experience towards gaining new abilities. These will be bonuses such as more health, unlocking dodge counters, faster rock climbing, multiple arrow stealth kills, and much more. The upgrades are incredibly useful and each one will help you better take on your obstacles. With these meaningful abilities the drive to complete as much as you can is enjoyable.
Replay ability is much more present in Rise then before. Similar the Metroidvania genre, lots of the avenues for exploration are gated by items/abilities found later in the story. Certain side missions also won't be available until a later point. This forces you to have to return to previous sections in order to find everything there. Though this sounds tedious, you will of course want to since it is one more way for you to continue to power Lara up.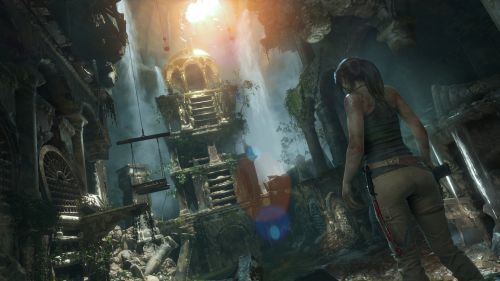 Tomb raiding is more frequent this time around although still falls short on occasion. There are a total of nine optional tombs for you to take on throughout the campaign. Good to see considering they were quite rare in the last game. The problem is that the majority of them are very short. Consisting of basically one puzzle to solve they can end up being only a couple of minutes long. You do gain a new ability for each one you finish (another example of this game's great progression). Despite this, it would have been nicer to see more detailed and deeper tombs to work through. Challenges that were several rooms long and required much more puzzle solving. The tombs are an improvement but could still be fleshed out going forward.
The story is engaging and gives good purpose to both sides of the fight. The characters have real motivation and nicely set up their actions throughout. This drives Lara to some interesting places both emotionally and physically. The areas are quite varied and each one presents a new and interesting element to engage with. The drive pushing the player is evident and enjoyable.
This is a fantastic follow up to a rebooted franchise. Rise of the Tomb Raider is exciting and a great deal of fun. There is so much to explore and do that I was glued to my TV the entire time. Backtracking is necessary and desirable since any opportunity to find a new cave and increase Lara's abilities is welcomed. There is a great amount of content to play through and you will be interested and willing to go through it all.
Rating: 10 /10
Last Updated: June 23, 2021 - 00:45