Review: Really Bad Chess
By Sean Booker
October 14, 2016 - 17:54
Really Bad Chess is a simple idea that adds new life to the classic board game. You're dealt random pieces each time and you have to work with the differing layouts you're up against. This small twist is enough to flip standard chess on its head. This results in a more chaotic but equally strategic game. It doesn't change the pathology of what we're used to but it allows for an easier and more carefree experience.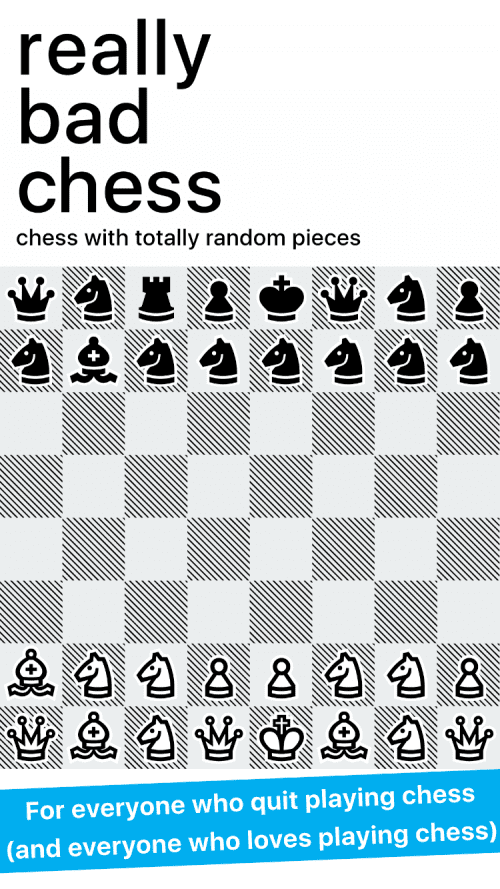 Unlike normal chess, this version mixes up each players' board with a random assortment of pieces. Multiple queens, no rooks, five bishops are all examples of what you could be dealing with. Unfortunately you will only be playing against the computer since there is no local multiplayer. This however gets varied up in the different modes available. Aside from freeplay, there is also a daily and weekly board to work through. A ranked mode is present which assigns a number to your success rate and adjusts the pieces your opponent has as you win/lose. There is room for both lazy and more focused gameplay.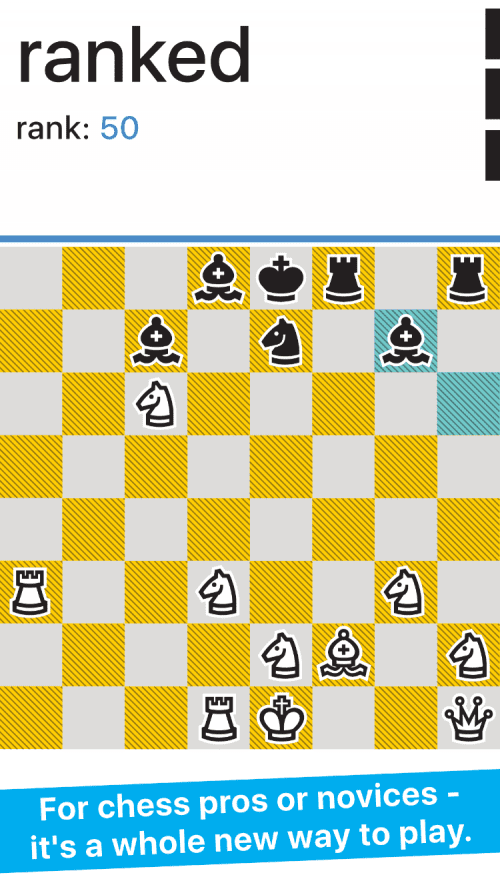 It's safe to say that if you weren't interested in chess before, this version won't change your mind. The mixture of pieces adds a new element but in the end you're still playing chess. The rules remain the same and strategy will come into play the higher difficulty you go up against. It is easier than standard chess, especially with the Undo option you have available. This allows you to throw some of your pieces at the opponent and see what happens next without much consequence. These are limited however and more undos can be purchased through microtransactions. It's easy enough to work through a board without undoing too often since I had so many powerful pieces at my disposal. This game is a variation of chess but you need to enjoy the original to get the most out of this one.
The game is free to play so it doesn't hurt to try it out for yourself. The use of in-game ads and microtransactions are the revenue stream. Apart from the undos, you can purchase a one time unlock that removes all the ads and offers new color options to the game. This allows you to change from the default black and white aesthetic to something much more appealing to the eyes. In fact, the main menu changes color too which is nice since the default can be a little difficult to parse. The microtransactions and ads on the bottom of the screen are unobtrusive which is nice to see from a free to play game.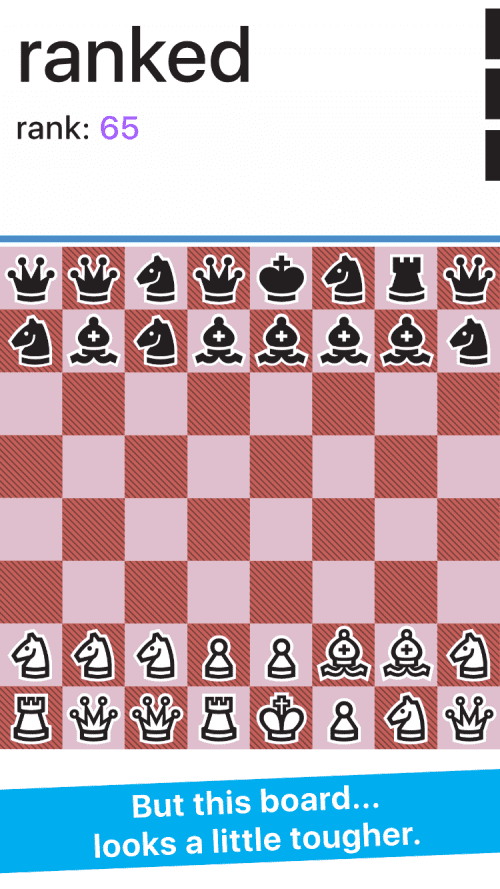 Anyone looking for some carefree chess time will enjoy Really Bad Chess. It's similar enough to the standard game but with a fun twist. A lack of local multiplayer is a bummer but there are enough different modes in order to find something interesting to do. fHowever, if chess isn't your thing then you might not find a ton of value here. At the free cost to download it never hurts to give it a try.
Rating: 8 /10
Last Updated: September 6, 2021 - 08:15