Comics / Comic Reviews / More Comics
Review: Incognegro Renaissance #1

By Andy Frisk
February 14, 2018 - 23:18
Mat Johnson and Warren Pleece created one of the most absorbing and critically acclaimed works of the past two decades with
Incognegro
for Vertigo Comics under the editorial leadership of Karen Berger. Ten years later, the pair team up, again under the editorial guidance of Berger, this time at her own imprint with Dark Horse Comics titled
Berger Books
, and create what might be the most absorbing and critically acclaimed works of the next two decades with
Incognegro: Renaissance.

Incognegro
was the murder mystery and historically enlightening tale of Zane Pinchback, an African-American man capable of "passing," which means he can "pass" for a white man even though he is black due to the lightness of his skin. Zane is a reporter for The New Holland, a "negro" newspaper of the 1920s who investigates racial injustice in the Deep South, including lynchings.
Incognegro
was a brilliant tale that explored the fluidity of identity and the evils of white supremacy in the United States.
Incognegro: Renaissance
tells the origin story of Zane and how he first learned to exploit, and more importantly to accept and embrace, his ability to pass as white in order to seek social justice. What makes Johnson and Pleece's story much more than a well written murder mystery and social justice dialogue, is the real life history that Johnson pulls upon for inspiration like the real life Harlem Renaissance and the behavior of its participating authors both black and white. By mixing great storytelling with important racial themes and historical events and movements, Johnson and Pleece create an experience that is unique to sequential art by delivering something that is educational, motivated by a thirst for social justice, and entertaining all at once.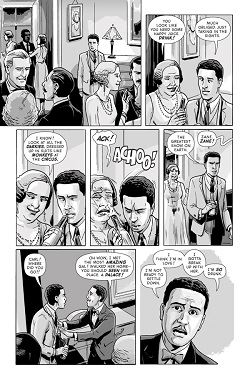 Working without color, the obvious metaphor is that the story is an obvious black and white affair, racially and thematically. Pleece's use of many shades of gray and white signifies the fluidity between identities based solely upon being either black or white though. The dark side of this fluidity represents the cultural appropriation that is being engaged in by the white artists who pillage African-American art forms (like jazz) in the story, and Pleece's subtle shades visually bring this theme to life in the eyes of the reader. As far as the artwork itself is considered, Pleece hasn't lost a bit of talent over the last 10 years since he drew these characters for the first time. They are as visually engaging and realistic looking as they were when we first met Zane and Carl.
Destined to be studied in classrooms across academia much like
Incognegro
is,
Incognegro: Renaissance
is another Johnson/Pleece joint not to be missed.
Rating: 10 /10
Last Updated: June 23, 2021 - 00:45