Comics / Comic Reviews / More Comics
Night Fisher
By Henry Chamberlain
February 1, 2008 - 19:22
Fluid ink lines convey in the first few panels a speeding car in the suburbs, wild palm trees, a lanky teen jumping out of the car, his bare feet landing on the lawn, and a smiling dad in sun glasses waiting for his son to do some yard work. Welcome to the suburbs of Hawaii and the teen world of cartoonist R. Kikuo Johnson.
Night Fisher
is a book that is well worth taking a closer look at as Johnson's art career has taken off quite admirably in illustration.
The specificity of the story gives it away as autobio which proves to be a great strength, not a weakness. In fact, if you think about it, autobio comics tend to have an excellent track record. It's when this sort of storytelling is in the wrong hands, that you have problems. Usually, the specificity of such a story offers the reader something new and fresh. If done with care, you can really go somewhere. It helps that Johnson is willing to be honest. Assuming that the main character, Loren Foster, bares any resemblance to Johnson, it is a fictional device far enough removed from the author to be able to say and do uncomfortable things and find its way to some satisfying resolution.
This story of a drug-induced downward spiral in what should be a beautiful island paradise is told in such a way that we feel for the character and believe we are witnessing something unusual with the intimate feel of reading a diary or sketchbook. Johnson's drawing and writing go hand in hand much in the way that it works for Adrian Tomine. Where Tomine has always favored a more precise line, Johnson's work is more expressive, more evocative of dreams. Both are writing and drawing character-driven stories and both are attracted to the current scene and its subcultures. Both want to report back on how the culture is doing and, to some degree, influence the culture through their art. Tomine is already an established authority on all this and the future looks bright for Johnson.
As an autobio comic, the story seems to run deep for the author and that should resonate with readers. Time and imagination have worked together to allow Johnson to conjure up some magic with some clever artistic exploration. His use of blacks gives the story something of a film noir quality whether at night or day. The use of exposing only parts of the word content from word balloons is fun especially in the scenes depicting a boring class lecture.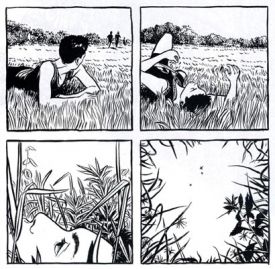 Portion of last page of Night Fisher
The motif of Loren's glasses is interesting. Loren looks like a young Harold Lloyd with his lanky frame, bushy short hair, and glasses that completely cover his eyes into two perfect white circles. It makes for an arresting visual like Little Orphan Annie. That his eyes are almost always hidden might suggest an inability to see clearly or a need to conceal. It's not until the last page of the book, after Loren has pretty much completed his awakening, been knocked down and thrown into a thicket of weeds, his glasses cast off, that we begin to see his eyes.
Last Updated: June 23, 2021 - 00:45