Comics / Comic Reviews / More Comics
Neozoic #1-8
By Patrick Bérubé
February 10, 2009 - 09:30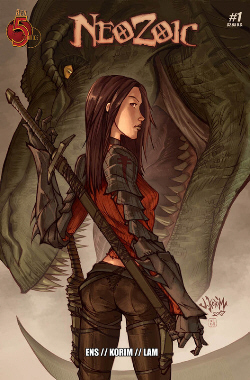 What if the meteorite that crash landed on earth millions of years ago and killed all the dinausors had hit the moon instead?That's the premise Neozoic is build on. Forced to evolve beside mighty predators, man soon refuged himself inside huge walled cities in orders to survive. Created to protect those walls, the Predator Defense League's job is not an easy one and is reserved to the most skillful. But this ''peaceful'' cohabitation is about to end when Lili Murko, one of the league's finest, rescue a young and mysterious Talpid girl from a horde of dinosaur. Talpid are human that evolved differently since they live outside the walls. They developed telepathy and hatred for they urban counterpart. But this little girl also seems to have another very special gift. She seems able to attract dinosaurs. So when she is brought inside the city of Monanti, it's an all out dinosaurs attack. Is it a coincidence that the Talpid also choose this moment to invade the city?
Paul Ens script is the kind of story that I enjoy reading. It is finite, self-contained and everything is clearly explained. Even if the plot is straight-forward and the action a bit far stretched, there is sense of excitement in here that we don't often see anymore in many comic books. My only complain here is the relatively quick resolution in the last issue of the series. When everything seems to have gone south, a few action scenes later and we get the happy ending.
The art is what surprised me the most with this comic book. It's rare that preview pages really make a difference in my buying habits. But I have to admit that J. Korim's just loose enough pencil was really a deciding factor when I choose to pre-order this comic book. I had never heard of him before and it was a nice surprise to discover his style and see his pencil evolve from issue to issue. I really wish that he will publish more stuff soon. The color was also great even if I didn't like it at first. It seemed a bit bland and I would have had preferred something more lush. As the issue came in, I changed my mind and Jessie Lam's color palette soon became an integral part of this comic book's visual aspect that I now appreciate.
Neozoic is not the best comic book out there but it was a fun and enjoyable read. Every time a new publisher appear I try at least one of their title to sample their offering. I was never disappointed by any of the issue of this mini-series and not once did I ask myself if I should take it out of my pull list. This cannot be said for most of the best series out there.
I rate the whole mini-series 7 out 10 and it's important to mention that a trade paperback is on the way.
Last Updated: June 23, 2021 - 00:45