Masters of American Comics: Through the Eyes of a Fan - Part Three
By Avi Weinryb
March 1, 2007 - 09:25
Welcome to the third and final installment of Masters of American Comics: Through the Eyes of a Fan. For those of you just joining us, this is a fan's eye view through the incredible Masters of American Comics exhibit at The Jewish Museum. The show is over but you can still 'experience it' by reading this three part feature. Click here for the previous installment.
We continue our tour with a look at
Gary Panter – A Man of Many Influences
It took a long time for me to peel myself away from the R. Crumb area, but I finally crossed through the threshold and entered the land of Gary Panter (b. 1950).
Upon seeing all the original Panter art strewn about the walls of the room, I felt as if I had stumbled into Pee-Wee's playhouse. This analogy is apt considering that Panter designed that television show's set.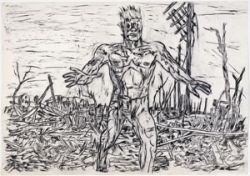 Gary Panter's 'Jimbo is Stepping Off the Edge of a Cliff'

The odd angles and disproportionate dimensions were cribbed from German Expressionism, while the bright colours came from mysterious sources of insane inspiration – but enough about the Pee-Wee Herman T.V. show. What about the designer/artist himself?

Panter began publishing comics when he was in his mid-twenties. His work offered a very unique look which set him apart from his contemporaries. The seemingly unsophisticated appearance of his art on the cover of Raw #3 soon grew into a much-aped form of illustration. This carefree punk-rock style was no coincidence – some of Panter's earliest work appeared in the punk rock magazine Slash.

As I passed through the Panter pavilion, I got an up-close look at original drawings from Jimbo in Purgatory and Raw amongst some other fine pieces from the Panter oeuvre. I couldn't help but note that although he shares in some ideals, his drawing style remains remarkably opposed to that of…

Chris Ware – An Acme Novelty

Once I sauntered away from Panter's art, I eagerly leapt into the other half of the room which contained the work of Chris Ware (b. 1967).

As an overexcited Ware fan, I slowly moved from panel to panel, absorbing every line and curve of his pencils. Being united with original drawings of work I know well is always a fun prospect. In seeing the eerily perfect composition and form of Ware's art up close, I was reminded of why my dog-eared copy of Jimmy Corrigan, The Smartest Boy on Earth is one of the books I read most.

Chris Ware has a distinct approach to storytelling. He soars over logical continuity and mechanical characterization and instead offers a unique and cutting edge approach to comics even as he recalls conventions from the past.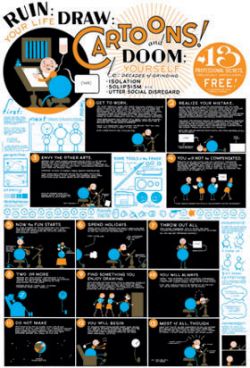 Chris Ware's 'Draw Cartoons - Ruin Your Life'

Reading a Chris Ware work is like looking through a window into a place that seems both familiar and wickedly foreign. (Pick up some volumes of the Acme Novelty Library to see what I mean.) H e can isolate emotions and feelings in a single panel, or stretch a sincere moment into a nearly endless stream of images. Ware is, for lack of a better term, a genius.

It was a delight to see his work in person, just as it was a distinct pleasure to see the original art of all the talents that were featured in the exhibit. I will never forget my time at the Masters of American Comics exhibit at the Jewish Museum. It was the day I got to witness past and present achievements in comic history. Ink never looked so good.




_______________________________

Avi appreciates your feedback.
Last Updated: June 23, 2021 - 00:29