Masters of American Comics: Through the Eyes of a Fan - Part Two
By Avi Weinryb
January 25, 2007 - 08:28
Welcome to the second installment of Masters of American Comics: Through the Eyes of a Fan. For those of you just joining us, this is a fan's eye view through the incredible Masters of American Comics exhibit at The Jewish Museum. It runs from September 15th 2006 to January 28th 2007. Click here for the previous installment.
We continue our tour with a look at...
Art by Harvey Kurtzman
Harvey Kurtzman – More than a MADman
After pulling myself away from the Jack Kirby area, I entered into the next room. It was there that I gazed upon a pristine copy of MAD #1. Harvey Kurtzman (1924-1993) was a creative powerhouse during his tenure at E.C. Comics during the 1950s. His military comics were impeccably researched and vividly written. When MAD launched, Kurtzman wrote the first twenty-three issues of the comic book and edited the first five issues of its magazine format.
Kurtzman brought a sharp satirical wit to MAD, filling its pages with parodies and mockery that were unrivalled. His solid artwork was matched by his writing skills and Kurtzman collaborated with many talented artists including Will Elder and Jack Davis. Although he is best known for his MAD work, Harvey Kurtzman was involved with the underground scene as well as a successful feature in Playboy Magazine titled "Little Annie Fannie."
It was great to see the original Kurtzman art lining the walls. As a MAD Magazine fan, my eyes were popping out of my head when I spotted original cover art for some of the early issues, including the first issue of MAD!
The original artwork from Frontline Combat looked great enlarged. It is a crime that so many people will never get a chance to see this work in person. The classic MAD #12 feature "3-Dimensions!" by Kurtzman and Wally Wood was especially interesting. Kurtzman's notes alongside the art provided a peek into the creative process.
R. Crumb – Lord of the Autobiographical Underground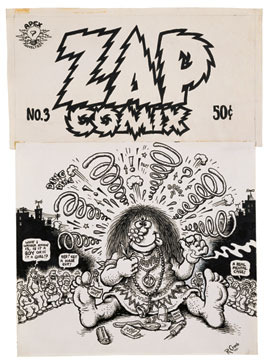 An unused Zap Comix cover by R. Crumb
Upon exiting the Kurtzman area, I wandered into the land of R. Crumb (b. 1943). A cornucopia of work lined the walls – all drawn by his genius hand. The excerpt from Big Ass #2 titled "A Word to You Feminist Women" cracked me up and the Fritz the Cat work never looked better. Seeing Crumb's work up close is a real treat. His art is nuanced and vibrant in its original dimensions in a way that does not translate to the printed page.
It was damn cool seeing characters like Mr. Natural and (the sometimes flesh and blood) Harvey Pekar in original works of comic art.
As one of the key figures in the establishment of the "underground comix" scene, Crumb presided over the publishing of key titles such as Zap Comix. In playing with form and content, his expressions of drugs, sex and subversion allowed the comic medium to mature and grow in unexpected directions.
Crumb's autobiographical work allows readers to climb inside his head. By standing in front of original works of art by this comics legend, I felt even closer to the force of nature that is R. Crumb.
Stick around for the final installment of Masters of American Comics: Through the Eyes of a Fan in which the displayed works of Gary Panter and Chris Ware will be explored.
If you are in New York City or Newark , be sure to check out the exhibit! If you miss it (and I pity you), getting your hands on a copy of the companion book Masters of American Comics is the next best thing.
_______________________________
Avi appreciates your feedback.
Last Updated: June 23, 2021 - 00:29