Masters of American Comics: Through the Eyes of a Fan - Part One
By Avi Weinryb
January 22, 2007 - 09:04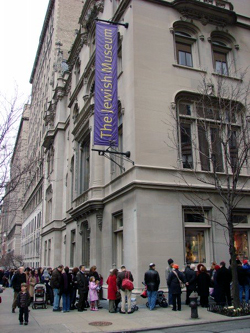 A lineup at The Jewish Museum - Avi Weinryb photo

I recently had the divine pleasure of touring the Masters of American Comics exhibit at New York City 's The Jewish Museum. It runs from September 15th 2006 to January 28th 2007 . An excess amount of original art, enlightening information, and artifacts helped guide me through the pivotal moments of comic history. This distinct art form has a healthy history behind it, and the exhibit performs a valuable and pleasurable service by illustrating this heritage so exquisitely.

Forgoing the staid form of a typical museum review, I wish to extend the enthusiasm I originally felt when touring this exhibit by penning this review from the perspective of a wide-eyed museum visitor.

Why The Jewish Museum?

First off, readers should keep in mind that this exhibit is divided into two parts. The first, featuring such comic luminaries Winsor McCay, George Herriman, Chester Gould and Charles M. Schulz (to name a few) can be found in The Newark Museum. It is in The Jewish Museum that one can find an examination of Will Eisner, Jack Kirby, Harvey Kurtzman, R. Crumb, Gary Panter and Chris Ware. But why is this exhibit being offered in a Jewish museum in the first place?

If you really need to ask that question, you probably don't know a lot about comic books. You see, the medium, as well as its popular superhero genre were largely founded and popularized by Jewish men of European descent.

New York City being the birthplace of comics and the home of the United States ' largest Jewish population, it comes as no surprise that The Jewish Museum would house this collection. Ascending the stairs to the upper floor of the museum, visitors enter the room that will begin their exciting journey into comics. Care to come along?

Will Eisner – The Father of the Graphic Novel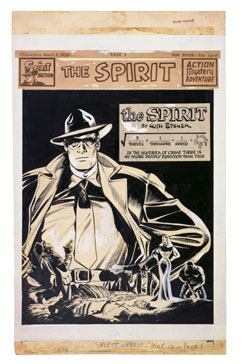 Will Eisner's The Spirit

Stepping into the first room, visitors are greeted by a multitude of glass cases and picture frames. The walled frames include original art, as do many of the cases. Visitors are invited to step up nice and close. You can read every word in every panel or just breeze through the room. I recommend the first option.

All this work was produced by the late Will Eisner (1917-2005), popularly known as the 'father of the graphic novel'. It is an exhilarating collection of work that has shaped both history and culture. For fans of the medium, gazing upon original art from The Spirit is akin to standing before the Mona Lisa.

Jack Kirby – The Accomplished Artist

The first thing that struck me when I walked into the Kirby corner was original art for the cover of a Captain America comic. As I walked amongst the original Fantastic Four and Thor art I marveled (excuse the pun) at how bloody incredible it is that Jack Kirby (1917-1994) was able to rise through the ranks of the New York illustration scene to become the creator and co-creator of some of the most well known comic characters and franchises of all time.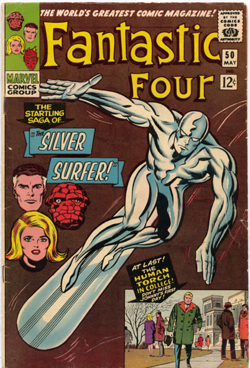 Fantastic Four #50, Art by Jack Kirby
The unique and influential style of Kirby's art is a treat to take in when it is resting behind glass in its original dimensions.
***Stick around for the next installment of Masters of American Comics: Through the Eyes of a Fan in which the works of Harvey Kurtzman and R. Crumb will be explored.***
If you are in New York City or Newark , be sure to check out the exhibit! If you miss it (and I pity you), getting your hands on a copy of the companion book Masters of American Comics is the next best thing.
_______________________________
Avi appreciates your feedback.
Last Updated: June 23, 2021 - 00:29