Manga: The Complete Guide
By Julie Gray
August 22, 2007 - 18:47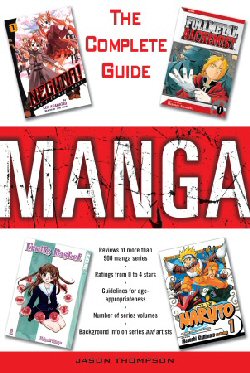 Manga: The Complete Guide cover
Manga: The Complete Guide
is an extremely useful reference book and guide for any manga enthusiast or journalist. Penned by Jason Thompson, former editor of Viz, the book is extremely well presented and very easy to use which is one of the best things about it.
More than 900 different manga titles are included in the book with updates being published six months and a year after publication of the first book.
Personally, I found the book most useful for finding details such as the genre of manga (sometimes, this is a tricky thing to determine accurately, even if you consider yourself generally well informed about manga) and other details such as the publisher, author and age rating. Each entry is also accompanied by a brief synopsis for each manga.
For reviewers and journalists (such as myself), I found the book to be a must-have reference listing, right along side my various editions of the dictionary, thesaurus and literary quotations – it's
that
useful.
The book itself is quite concise with brief references for each manga being ideal for quick reference requirements. You don't need in-depth reference listings to get the information you need quickly and efficiently and that's what this book delivers. The details of each manga are distinctly located at the beginning of each entry.
Manga: The Complete Guide
also includes a brief history of manga included in the introduction with details about content that has been omitted from the book, the different genres of manga, and instruction on how to use the reviews. Each manga is listed alphabetically with introductions throughout the book for various different aspects of manga and related topics (such as an explanation of the word
'Otaku'
).
Manga: The Complete Guide
is extremely well written for both the novice and knowledgeable manga enthusiast. If you're in the business of writing about manga, you should not be without this book!
The Del Rey website for
Manga: The Complete Guide
is
here.
Content:
9/10
Presentation:
9/10
Overall Rating:
9/10
Contact the author of this review: Julie@comicbookbin.com
Last Updated: June 23, 2021 - 00:45