Comics / Comic Reviews / More Comics
Hutch Owens: Unmarketable from Top Shelf
By Al Kratina
January 2, 2008 - 20:15
I'd like to meet Batman, and tell him what a great job he's been doing protecting Gotham City. I'd like to sit down with Green Lantern, and explain that while his creativity is commendable, capturing fleeing villains with giant mousetraps and glowing nets makes everyone think your comics are written by the kid from Calvin and Hobbes. And I'd like to shake hands with Psylocke and discuss the fine line between aerodynamic ninja chic and pimp-bait. Hutch Owens, on the other hand, I would cross the street to avoid, because the transient anarchist looks like he smells like sour milk and the beet soup served at homeless shelters.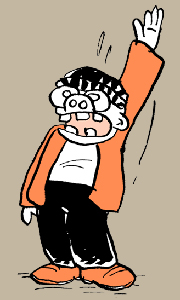 Hutch Owens is the creation of cartoonist Tom Hart, in the fine tradition of 1960s counterculture comix. Curmudgeonly far beyond his years, Hutch lives off the grid in a rejection of the capitalist economy, simultaneously embodying both our inner desire to quit our jobs and society's fear of that dreadlocked retard who gets lost in the comedy section of the video store while looking for Half Baked and ends up urinating on the Eddie Murphy section. Top Shelf's Hutch Owens: Unmarketable is the second collection of Hart's work from the company, containing two lengthy stories and several shorter pieces. Hutch wanders the streets, imparts his grouchy anarchist wisdom on his semi-interested cronies, and occasionally betrays himself as he accidentally gets odd jobs. There's not a lot of physical action, but the book will certainly give readers an intellectual workout.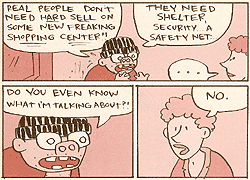 All 208 of the book's pages are soaked with the left-wing rants that drip from Hutch's probably cankerous lips like bong resin, and there are moments where Hart's genuine anger peaks through the warm-hearted comedy of the book. These moments are balanced by occasional bursts of real poetry in the script, which keep the pages turning more than the fiery and occasionally trite politics. The book works best when Hutch is confronted with a devil's advocate of some kind, and the discussion created by this dichotomy transforms the book from a diatribe to a dialogue.
The art is simplistic but effective, again evoking the underground work of the 60s, and fits the DIY aesthetic of the book like a hemp necklace. The scratchy pencils belie the complexity of Hutch Owens: Unmarketable, which thankfully poses questions without presuming to know the answers. Though rough around the edges, the book is sharp, funny, and undeniably creative, though thankfully devoid of any giant mousetraps.
Rating: 7 on 10
Last Updated: May 19, 2020 - 12:25