Comics / Comic Reviews / More Comics
Dynamo 5
By Geoff Hoppe
March 9, 2007 - 23:57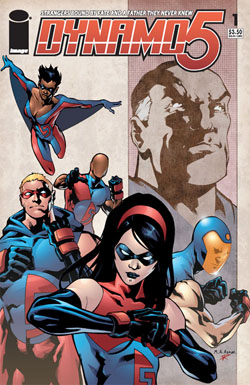 I would have gone with a different color scheme, but you can't win 'em all...

As part of my new Marvel/DC free lifestyle, I'm turning to different sources for my daily hit of serial art. Since I've bought everything I wanted from Dark Horse this week, I turned to the other lesser publishing house of the comics world: Image.

Dynamo 5 is the story of a dead superhero's love children, banded together to fight evil in the absence of the deceased. When Captain Dynamo dies under mysterious circumstances, his grieving wife discovers that he's had girls on the side. She tracks down the children of these unions and bombards them with radiation to awaken the latent powers they got from dear old dad. As a result, the five powers Captain Dynamo had are now split between his five kids. The concept is interesting, as are the characters. It'll take some deft work on writer Jay Faerber's part, however, to distinguish this super-team from the myriad others in the world of comic books.

Mahmud A. Asrar's art is convincing and solid, and captures the kinetic dynamics of a fight scene well. Despite these redeeming qualities, there remains a lifelessness to some of the characters. This is the premiere issue, however, and both writer and artist are able to command the full attention of the reader.

Worth the money? If you're into the Image universe, sure. If not, wait a little bit for the creative team to work out the kinks.
Last Updated: June 23, 2021 - 00:45