Comics / Comic Reviews / DC Comics
Detective Comics 828
By Geoff Hoppe
March 19, 2007 - 12:34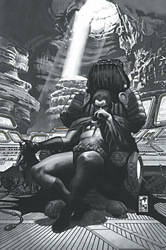 His chair still has little wheels on the bottom.

Being Bruce Wayne's friend would probably suck. It doesn't seem that way, because he's totally loaded, and Wayne Manor probably has more fun stuff inside than the Playboy Mansion (without the detraction of an octogenarian chauvinist and women with the IQs of house ferns). Unfortunately, being Bruce Wayne's pal is like being James Bond's no-strings fling: it looks really cool until you wind up impaled, or eaten by lazer-sharks, or blowed up real good.

In Detective Comics #828, Bruce Wayne loses a trusted friend, and suspects foul play. Naturally, there is foul play, but it's the specific type that makes this issue interesting.

Every issue of Detective Comics should have a story like this one: brooding, slightly dark, and inundated with historical information that reveals Bruce Wayne's prodigious knowledge of pretty much everything. Paul Dini, longtime writer of Batman: The Animated Series, pens another exquisite short story. Dini's vision of Gotham in the cartoon was one of futurist angles, Depression-era style, upper-class swank and seedy crime, much like a more interesting, pulpier version of a Raymond Chandler novel. Thank goodness that vision is still present in this issue. Let's hope Dini sticks around DC—and the Dark Knight—for as long as they'll have him.

The action scenes are all impressively drawn and composed, like the underwater sequence where Bruce Wayne fights sharks, or the fight that ends the issue. Too bad for Don Kramer, this is a dialogue-heavy issue, and he doesn't draw static characters well. To make discussion interesting, you have to either a) have the technical abilities of a Jim Lee, or b) know how to do some funky-fresh jives with the layout. Neither of these are Kramer's specialty, so most of the art actually detracts from the story. The characters' facial expressions rarely match the content of the plot, and a person who looks fat in one panel will look thin the next.

Worth the money? I'll say no, because of the art. But, if you're a twentysomething who (like me) longs for the days of Timm and Dini's animated rendition of the Dark Knight, you could do much worse.
Last Updated: June 23, 2021 - 00:45