Comics / Comic Reviews / More Comics
Dang! brand comics and stories
By Julie Gray
January 3, 2008 - 15:41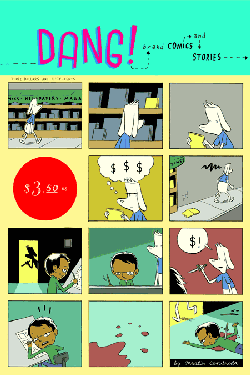 Cover for Dang!
Comics can come in all shapes and sizes, styles and design. This particular comic,
Dang! brand comics and stories
is more like a collection of comic strips which also happens to be a collection of stories. The design of the comic has six panels per page making the content easy to read. The simplistic design is great from a layout perspective.
There are five stories in total and different characters in each, some of which are briefly introduced to the readers via the inside front cover. I thought this was a nice touch. The comic strips themselves are standard black and white with only the last story appearing in teal and black on the inside back cover.
What I particularly enjoyed about each story was Martin Cendreda's minimalist approach to the art work captured in each panel. There doesn't seem to be a lot going on in terms of imagery, which is extremely different in comparison to the style of art and storytelling in say a manga, for instance. Each story is interesting, fun and imaginative without the need to overburden the reader with imagery.
The dialogue between characters, again although minimal, is well-thought out and draws the reader into what's going on. The first story
'Pants'
is one of my favourites as it captures so much of what happens in the world today, especially in relation to the way that fashion 'fads' catch on and subsequently make victims of everyone who gives into them (or not, as the case may be for poor Herbert Hound). I also found Martin Cendreda's style of humour appealing and 'hip'. Check out
Ted (A Li'l Ids Adventure)
for good examples of this.
I thoroughly enjoyed Martin Cendreda's
Dang! brand comics and stories
collection. I'd happily recommend this type of comic to the 16+ age group (due to the use of swear words in the comic) and also because the content really would appeal to teenagers and adults more than younger children.
Art Work:
9/10
Stories:
'Pants' - 9/10, 'Balls' – 7/10, 'Ted (A Li'L Ids Adventure)' – 8/10, 'Blunt Hat' – 7/10, 'Everybody Loves Herbert' – 7/10.
Contact the author of this review:
Julie@comicbookbin.com

Last Updated: May 19, 2020 - 12:25