Creator Spotlight: Janet Hetherington
By Avi Weinryb
May 28, 2007 - 09:00
It was ten years ago when Janet Hetherington began writing, drawing and self-publishing her Eternal Romance series. It has since garnered a bevy of fans and much critical praise. Hetherington has been a player in the Canadian comics scene for many years, making the leap from reader to creator (and still a reader!) while gathering attention to her work and getting the opportunity to sit on esteemed panels as both a judge (Eisner Awards, 1997) and as a speaker (Women of Comics Symposium).
Beyond crafting comic books and online comics, Ms. Hetherington is also an accomplished prose author. She contributed to Bell, Book & Beyond: An Anthology of Witchy Tales, and is a recipient of the 1999 Aurora Award for excellence in Canadian science fiction. In celebration of Women Month at The Comic Book Bin, Janet was kind enough to take some time out of her schedule to dish about various subjects, including women in comics, being Canadian, getting published and the upcoming Women of Comics Symposium in Toronto :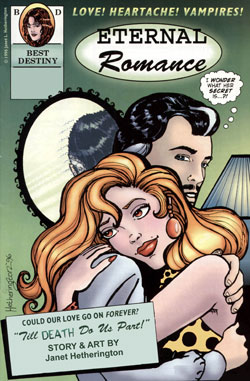 Eternal Romance is celebrating its 10th anniversary by appearing in serialized form on the web.
Comic Book Bin:
Romance comics seemed to have been forgotten in the dustbins of the 1950s before you started self-publishing
Eternal Romance
. The big publishers are starting to target their female readership with distinct book lines (DC's Minx line, for example). Do you see yourself as a trailblazer in some ways?
Janet Hetherington: I grew up reading romance comics (and all kinds of other comics—science fiction, western, mystery, etc.) and I missed them. My artwork has been influenced by the romance comics artists, so it seemed a natural thing to work in that genre, even though Eternal Romance mixes traditional romance with a supernatural sensibility. I don't know if I'm a trailblazer, but I can say that I noticed gaps in what was being offered on the comic book market—that is to say, there didn't seem to be a lot of comics to appeal to girl and women readers. I may have been ahead of the curve when I developed Eternal Romance 10 years ago, because now there seem to be more comics being targeted to girls and women—such as certain manga titles and lines like DC's Minx. These comics and graphic novels have also found their way into bookstores and libraries, which make them more accessible to female readers.
I am pleased to report that Shelly Bond, Editor of DC's Minx line, and Canadian creator Cecil Castellucci (The Plain Janes), will be at the Women of Comics II symposium, taking place as part of the Paradise Toronto Comicon from June 8-10, 2007 . I will be moderating a panel about Minx, plus other panels (Spotlight on Birds of Prey with Gail Simone and Nicola Scott, and Comics for Kids with Editor Joan Hilty, J. Bone, J. Torres, Steve Manale, Mike Cho and Tania Del Rio). I will also be participating on a panel about the Visual Language of Comics.
CBB: You started off your comics career by self-publishing. Was it difficult to get Diamond to distribute your work?
JH: The decision to self-publish Eternal Romance was a lot easier to make in 1997 than it would be today. Not only was my comic book carried by Diamond Comic Distributors, it was also carried by Cold Cut and FM. My understanding from talking to other independent creators and self-publishers is that it is much more difficult to get a new self-published comic picked up by Diamond. To be honest, in the past, a number of announced self-published titles ran very late or never saw the light of day.
What are the choices for an indie creator today? Certainly, publishing to the web is one option. Or, if Diamond is willing to carry your comic, look into on-demand printing that specializes in comics and graphic novels so you can tailor your print run. In the case of a graphic novel, if your comic appeals to a wide audience, you may wish to investigate skipping comic shops and going directly into bookstores, but you will have to find a distributor for that too—Diamond or otherwise. In all cases, you have to be organized and committed to the project, working well ahead so that you can meet deadlines and maintain a presence.
I'm delighted that for its 10th anniversary, Eternal Romance has found a new presence too, on the web (in colour for the first time), serialized at MyRomanceStory.com (http://www.myromancestory.com/).
CBB: Having recently completed a run on Elvira, Mistress of the Dark, do you feel females are being strongly characterized well in today's popular comics? Is the 'damsel in distress' a thing of the past?
JH: Elvira, Mistress of the Dark was a great character to write because she is a self-assured, spunky, sexy, spoiled and sassy character. In the Claypool Comics run, Elvira was the star of the series, and I like to think that I added something to her mythos with my scripts during the six years I worked on the comic. I was not the only writer working on the book, but as a woman writer, I did tend to focus on screwball comedy and parody rather than sexualized humor.
As for damsels in distress, all the comics I grew up reading and loved in the past had strong female characters. Lois Lane was a reporter, and yes, she had a crush on Superman—who wouldn't?—and while Supes had to rescue her, that was because Lois had the guts to go after the tough stories. Superman had to rescue Jimmy Olsen just as often; in fact, he gave Jimmy a signal watch! Lois didn't have a signal brooch or signal necklace or signal earrings to press when she was in danger!
Wonder Woman was not a damsel in distress. She was an Amazon Princess and her alter ego, Diana Prince, was an armed forces officer. If anything, Steve Trevor was the one in distress; in fact, WW's journey to "man's world" began when she rescued Steve after his plane crashed and he washed up on Paradise Island .
Supergirl was not a damsel in distress. Poor little Kara not only survived the destruction of Argo City , she came to Earth and was abandoned by her Kyptonian cousin, Kal-El, who put her in an orphanage—and kept her there as his "secret weapon!" While Supergirl could be perceived as being a child in distress, she was incredibly optimistic, plucky and proud to do whatever it took to fulfill her destiny.
Of course, I am talking about the classic versions of the comics characters here. Today's girls and women have grown up with very strong modern comics and media characters. From Dana Scully to Xena to Buffy, the Vampire Slayer, female characters are largely proactive and they are no longer relegated to supporting roles.
Writers do present "damsels in distress" when it advances the plot or shows character development, but they do the same for male characters—being placed in a violent situation, drug dependence, or dealing with an unexpected event or crisis, etc.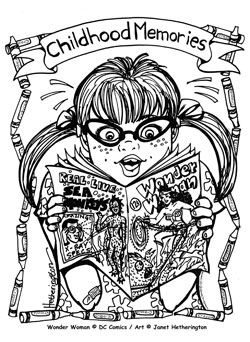 Janet grew up reading comics like Wonder Woman, Lois Lane and Supergirl... none of whom she considers to be damsels in distress.
CBB: That's a fair assessment. Before venturing into comics, you earned a degree in journalism at Carleton University . How was the comic scene in Ottawa when you were a student?
JH: The comic scene was quite vibrant. I actually returned to reading comics when I went to Carleton University . I got re-hooked when I read Chris Claremont's and John Byrne's classic X-Men "Hellfire Club" story arc. In addition, in Ottawa , Canada —where the university is situated—a convention called Maplecon got started. It began as a science fiction convention, but with Maplecon II, it became a combined comic book and science fiction convention. The science fiction group (the Ottawa Science Fiction Society) and the local comics club joined forces to put on a cross-genre show. I got involved as a volunteer and organizer, and worked on the convention committee in a number of roles. I also moderated panels at the shows.
While I was still at Carleton, I began writing for a number of comics specialty publications, including Amazing Heroes, Comic Book Collector (which became Combo) and later, Vantage. I was able to combine my interest in comics with my journalism training.
CBB: Do you find that there is anything uniquely Canadian about your work?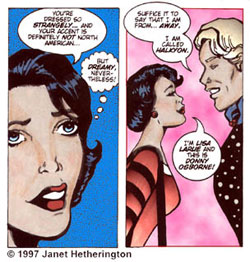 Super heroes need romance too! This art is from "Angel or Alien?" (Eternal Romance).
JH:
In 1999, I won an Aurora Award for Excellence in Canadian Science Fiction and Fantasy, for the work I did as co-curator of the "60 Years of Superman" exhibit at the
Nepean
Museum
. I am always happy to point out that Superman is the co-creation of Jerry Siegel (an American) and Joe Shuster (a Canadian). As for my own work, little Canadian references can and do creep in. For example, in the "Spinnerette" comics published by Millennium (co-created with Ronn Sutton), a character eats poutine and Spinnerette alludes to being from
Quebec
.
Being Canadian also means I have often been given the "Canadian beat." For example, I covered Canadian comics creators for Amazing Heroes and I have profiled Canadian animation companies for Animation Magazine and, more recently, Animation World Network (http://www.awn.com/). I just got an assignment to write about achievements by Canadian visual effects companies from VFXWorld.com (http://www.vfxworld.com/).
CBB: You have a very diverse resume, having worked for government organs such as Canada Post, the Canadian Toy Testing Council and currently the Canadian Food Inspection Agency. You have also penned articles on a wide range of subjects. What keeps drawing you back to cartooning and fiction?
JH: My interest in comics and cartooning is always with me. I worked at Canada Post for 11 years in the Stamp Marketing department. I left in 1994, but that expertise in philately ( The hobby of stamp collecting) and my knowledge of comics led to my involvement in Canada 's Super Hero stamp issue featuring Superman, Nelvana, Captain Canuck, Johnny Canuck and Fleur de Lys. I worked on the Official First Day Cover (collectable envelope) and scripted the associated Perf & Gauge comic book (illustrated by Ronn Sutton).
After I left Canada Post, I freelanced a lot. I was contracted by the Canadian Toy Testing Council, which is an independent non-profit organization, to edit its annual Toy Report (www.toy-testing.org). My knowledge of cartoons and comics came in handy there, too, as many of the toys tested are based on popular franchises.
In 2002, I became Managing Editor of WizardWorld.com after the website was sold by Wizard Publishing. In that role, I really had to know what has happening in comics and use my journalism skills on a daily basis.
I am currently working as an Editor with the Canadian Food Inspection Agency, and that job provides the security—regular paycheck, health benefits—that freelancing does not. However, my free time is my own, and I still indulge in comics, writing and drawing, and work on pet projects.
In addition, my partner is comics artist Ronn Sutton (Elvira artist, whose new work includes Fear Agent, Vampira and Liberty Girl), so we're always discussing comics—and we have copies all over the house!
CBB: Do the current crop of popular smash 'em up superhero titles need more romance these days?
JH: Super heroes always need romance! I think the reason that Sam Raimi's Spider-Man movies are such successful interpretations of the comics is because the running theme is Peter Parker's romance with Mary Jane.
CBB: Your drawing style seems to be caught in a 1960s-1970s time warp. Why do you favour a more classic comics style in your work?
JH: Being a mainly self-taught artist, I learned to draw characters based on the styles of the artists drawing the comics I read in my younger days. (I see a lot of budding artists presenting portfolios based on the current popular manga styles and if I'd grown up with manga, perhaps I'd reflect that style.) I was also intrigued by the works of Roy Lichtenstein and Andy Warhol, who co-opted classic 60s and 70s comic art styles and reflected them back as pop art—real art.
In the end, I draw as I draw. I actually consider myself a writer more than an artist, but it's always easier for a reader to have an immediate reaction to the graphics.
Janet believes that female readers have enjoyed strong media and comics role models in Buffy, Xena and F.B.I. Agent Dana Scully.
CBB: You will be taking part in the Women of Comics program at next month's Paradise Comic Con in Toronto . What makes the Women of Comics panels unique in comparison to the female focused programs that have occasionally occurred elsewhere?
JH: The Women of Comics symposium presents women in the comics industry as the norm rather than the exception. The female guest speakers are the headliners—and they are headliners based on innovative and respected work.
When you look at the guest lists for many comics conventions, the names of female creators are still often absent. I applaud the Women of Comics symposium for shining the spotlight on women's achievements. Here's a sampling from this all-star list:
Shelly Bond
Cecil Castellucci
Svetlana Chmakova
Danielle Corsetto
Tania Del Rio
Faith Erin Hicks
Joan Hilty
Liana K.
Michèle Laframboise
Tara McPherson
Robyn Moore
Patricia Mulvihill
Christine Norrie
Nicola Scott
Gail Simone
Tara Tallan
Diana Tamblyn
Raina Telgemeier
More to come!
Ronn Sutton and I will also be appearing at another Toronto show, Fan Expo Canada , taking place at the Metro Toronto Convention Centre, from August 24 to 26, 2007 . As always, we will be bringing comics and original art—to both shows.
See you there!
CBB: Thanks for your time, Janet. I'll see you at the Paradise Comic Con next month!
_
_
_
_
_______________________________
Avi always appreciates your feedback.
Last Updated: April 9, 2021 - 22:22