Comics / Comic Reviews / DC Comics
52: Week Fifty
By Geoff Hoppe
April 18, 2007 - 20:49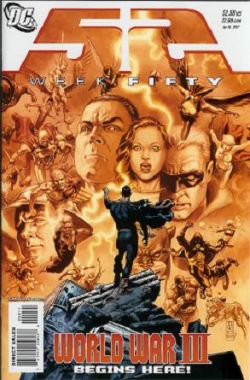 All in all, a pretty cool cover.

It's smackdown time as the DC creative staff brings World War III to life. Black Adam is in China blowing stuff up and making mincemeat out of various commie superheroes. The JSA waits in the wings, hoping the Chinese government will allow them permission to help stop the massacre…

I'll level with you, dear reader: this is my first issue of 52. I haven't bought one yet, because the concept seemed pretty weak to me. From what I can tell (and I don't know a whole lot), it seems that 52 isn't so much an idea or a deftly crafted plot. It's just a year that the DC editorial board decided to "skip," only to tell readers what happened over the course of the following year. Pardon me if this seems more like a marketing strategy than a storyline.

I can't complain about the art and the action of this issue, however. Justiniano's work is sloppy in places, but his battle sequences are well rendered, and Captain Marvel looks as battle-worn and impressive as a man in gold sparkle-y boots can look.

As regards the story, my criticism here is incomplete, given that I've joined this little soap opera (far) in progress. Despite that, the ending still feels rushed and contrived, though it does manage to factor in the events of "Day of Vengeance."

Worth the money? If you like Justiniano, or if you're following the series. Other than that, nothing tremendously worth the money here.
Last Updated: June 23, 2021 - 00:45