Review: Zen Pinball
By Zack Cooper
June 2, 2009 - 13:10
It's kind of ironic that a game called Zen Pinball could lead to such a degree of sensory overload; but it does.
The pinball courses (if you will, "tables") are easy to love. They're bright and colourful, but also very loud and somewhat overpowering. It's a game of extremes, where the game will tell you at one point that you're "excellent," "fantastic" or "amazing" (every 2 seconds, mind you)… only to see your ball slip right through the gap, to be followed by a deflating "ball lost" - which made me feel the sobering pain of failure all too quickly after such a high. I've honestly never felt so bi-polar in my life.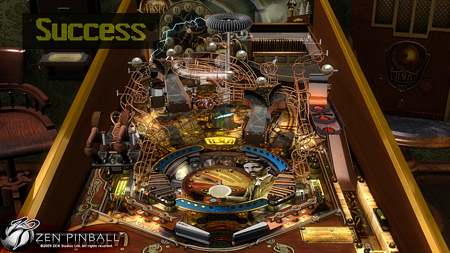 A look at the Tesla table.
Part of my frustration stems from the fact that there's so much going on in each of the four tables. Just like a real game of pinball, there are countless neon markers with score-multipliers which get illuminated after your ball crosses over them – or something like that. There are also the target zones that can obviously lead to big points if you complete a particular task. My main beef, however, comes from the fact that the aforementioned tasks can be as simple as "aim for the idol's mouth" or as confusing as "great shot... now *muffle muffle muffle*... HURRY UP!"
There's an indicator at the top of the screen that, theoretically, tells you your goal, but the objective flashes so quickly that if you take the time to read it, you'll surely lose your ball (or at least, I did).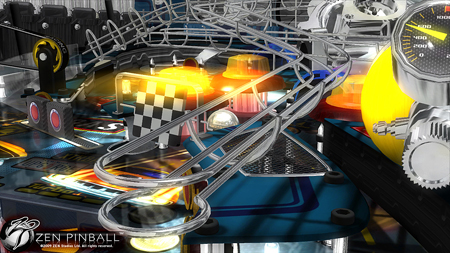 A close up of the racing inspired V12 table.
With that being said, if you speak the language of pinball, you very well could fall in love with this game. It's beautiful, it's creative, and it's pinball. I just don't think it's going to bring any newcomers into the genre.
There's a multi-player option which left me very frustrated and dissatisfied. It took me five tries to get into a game, and once I did I got left in the dust by some guy who reached 12 million points in like three minutes. By that point I probably had upwards of barely two mill.
The multi-player aspect works like a race. You can play with up to four people and there's a progress bar in the top-left corner. I beat two of the players in my latest attempt – but they had apparently disconnected before the game even started. Connectivity is certainly an issue.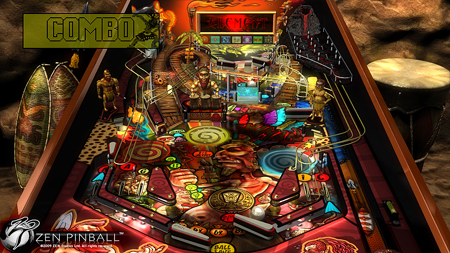 A shot of the jungle styled Shaman table.
But maybe that's because pinball's supposed to be played solo in the first place. Maybe the online leaderboards will keep you happy.
Either way, the game sounds great. The music, effects, and narration are unique to each of the four tables: You've got some calming, dark, tribal drumming throughout play on "Shaman;" windpipe tunes accompanying the Tomb Raider-esque "El Dorado;" driving guitar for the muscle-car themed "V12;" or the epic tunes and old electrical sound effects while rocking the scientific "Tesla" stage.
I'm not sure if there's really enough here to keep anyone engaged with pinball for the long haul. Zen Pinball carries the price tag of $10, so either way, I guess you're not breaking the bank.
If you like pinball it's probably worth the investment at the PS Store. If you don't like pinball, you probably wouldn't have even considered the purchase in the first place, and I don't think there's anything here that will change your mind.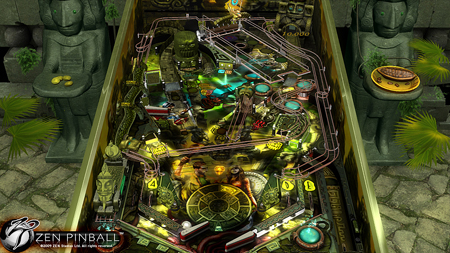 This is El Dorado. Watch out for booby traps.
Sure, there is downloadable content for more courses, but at the end of the day you're still just trying to smack a ball with some paddles. It's pinball. Plain and simple.
The Verdict for me: Forget it.
Zack Cooper is host of the radio show Got Game on The FAN590
Image Gallery:

Last Updated: September 6, 2021 - 08:15