Comics / Manga / Yaoi Manga
Yuki Shimizu's ZE: Volume 3 (Yaoi)
By Leroy Douresseaux
November 7, 2009 - 19:45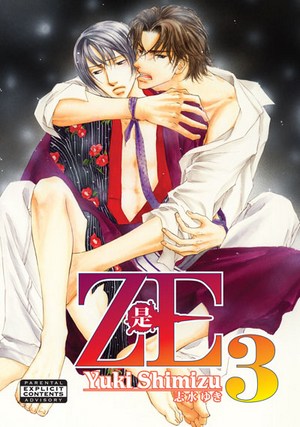 ZE Volume 3 cover image
Rating: "18+ Mature Content"
Alone and homeless after the death of his grandmother, culinary student Raizou Shichikawa accepted an offer to live at the palatial estate of the Mitou family. There, Raizou earns his keep as a cook and housekeeper. The Mitou family likes his diligence, but Raizou cannot help but notice this family's odd behavior.
Each Mitou is a "kotodama," a master whose words are power. A kotodama possesses a "kami," which looks like a person, but is actually a doll of living paper. A kami-sama heals his kotodama-sama, taking his master's injuries onto himself. Raizou is drawn to the kami, Kon, a dark-haired young man who sells his body. Kon is a kami without a master, but Raizou saves Kon by becoming his kotodama-sama and lover.
In ZE, Vol. 3, the story shifts to Yashiro Genma, the estranged son of a deceased relative of the Mitous, the late Seima Mitou. Seima possessed a kami named Himi. When a kotodama-sama dies, his kami-sama usually "dies" as well, but a promise Himi made to Seima has kept him alive. Suddenly, Yashiro takes ownership of Himi, but Yashiro is everything his father was not – rough, arrogant, brutish, and engaged in a shady profession. Now, Yashiro forces himself upon poor Himi for his own sexual pleasure. Himi doesn't know how much he can endure, especially once he learns Yashiro's true feelings.
THE LOWDOWN: Up to this point, creator Yuki Shimizu has focused ZE on the romance of Raizou and Kon. Watching puppy love turn into animal lust was quite enjoyable. Seeing bodily fluids erupt through intercourse or because of violent discourse is fun or disconcerting – depending on which amuses/arouses a particular reader. Virtually the entirety of Volume 3 is devoted to the Genma-Himi story, and this is a bleak story of dark love.
Volume 3, although technically well made, has very little to offer in the way of passionate romance as a fun reading experience. The art is excellent draftsmanship and sharp storytelling. The plot, a kind of tragic love triangle slash star-crossed lovers, is actually interesting. However, here, sex is a weapon of revenge, and that just does not have a romantic glow. Or how about, "I'll rape you because I just can't find the words to say 'I love you'?" The ending of the Genma-Himi narrative is actually quite good, but while this sad note is pitch perfect for a story of doomed love, what came before has too much anger and pain.
Still, some may really enjoy this edginess…
POSSIBLE AUDIENCE: Readers who want their yaoi edgy with a large side of dark will enjoy ZE.
B
www.digitalmanga.com
www.akadot.com
Last Updated: August 31, 2023 - 08:12