The Young Master's Revenge: Volume 1 manga review

By Leroy Douresseaux
Apr 6, 2018 - 3:04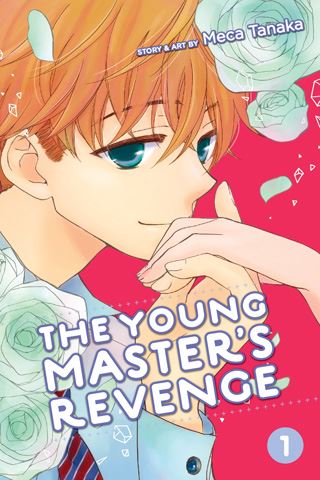 The Young Master's Revenge Graphic Novel Volume 1 cover image
Rated "T" for "Teen"
Leo Tachibana
wants revenge for an incident that occurred ten years ago. His target is a childhood friend, the rich girl
Tenma Tsuwabuki
. When he is reunited with Tenma, however, Leo discovers that she and her family have fallen on hard times.
The Young Master's Revenge

, Vol. 1
(Chapters 1 to 5) opens as Leo returns to Japan. His first stop is to visit the home of Tenma, the girl who destroyed his pride. However, the family business, Tachibana Department Store, is now bankrupt, and Leo finds the Tachibana estate abandoned and in disrepair. Inside the dilapidated home, Leo finds Tenma scrounging for family heirlooms and treasure that she can sell. Leo decides if he is to get revenge, he will have to take this sad former "princess" under his care, and make her love him so that he can break her heart. But will it be that easy?
[This volume includes the bonus manga, "If It's About Me, Keep It Brief" and "Meca Site."]
THE LOWDOWN:
Sweet and frothy, The Young Master's Revenge manga is a familiar tale of reunions and ulterior motives. This series is also from manga writer-artist,
Meca Tanaka
, the creator of the sweet and delightful shojo manga,
Meteor Prince
(which VIZ Media published in English back in 2015 in a two-graphic novel series).
The Young Master's Revenge Graphic Novel Volume 1
reveals that Tanaka will bolster this manga's slight premise with supporting characters that are interesting, conniving, and aggressive. Two of the best are Tenma's jilted fiancé, Gou Gamada, and the student council president, Masaomi Barazono, who is just like one of those rich boy villains out of a John Hughes' teen romantic comedy.
The Young Master's Revenge is not exactly "Shojo Beat" empty calories. There is some substance inside and a tart cherry on top of the shojo ice cream sundae that is The Young Master's Revenge. I like it, and I'm giving the first volume a high grade.
I READS YOU RECOMMENDS:
Readers look for a sugary Shojo Beat treat will want
The Young Master's Revenge
.
A
8 out of 10
Rating: 8 /10
Support this writer on Patreon
Last Updated: Jun 26, 2018 - 9:28