X-Men: Misfits Volume 1
By Leroy Douresseaux
August 10, 2009 - 07:22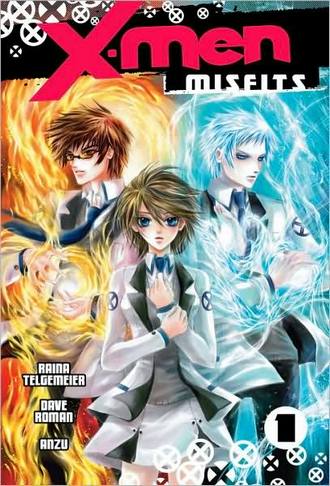 X-Men: Misfits Volume 1 cover image is courtesy of barnesandnoble.com
Rating "T" for "Ages 13+"
Del Rey Manga signed a deal with Marvel Entertainment to produce global manga (or OEL – original English language manga) featuring characters from the X-Men franchise. The first book from that deal was a shonen (boys' comics) take on Wolverine, entitled Wolverine: Prodigal Son.
The second book is the shojo (comics for teen girls) take on the X-Men franchise, entitled X-Men: Misfits. Written by Raina Telgemeier and Dave Roman and drawn by Anzu, this global manga reinvents the X-Men using the visual language of shojo manga and focuses on Kitty Pryde as the character through which this new X-Men world is introduced to readers.
In X-Men: Misfits, Vol. 1, we meet Kitty Pryde, a Chicago high school student and mutant, a human born with strange super powers. This mutant power – the ability to become immaterial (which allows her body to pass through solid objects) – manifests itself at the most inopportune times, which includes when Kitty's at school. Her powers mark her as a freak to her classmates, so her parents enroll Kitty at a private school in Westchester, New York. Xavier's Academy for Gifted Students is a place for young people like Kitty, people with "special gifts."
Kitty soon learns that she is only girl at the all-boys school, so she ends up feeling like a freak all over again. She soon, however, catches the attention of a student named John Allerdyce a.k.a Pyro. This handsome mutant can create and manipulate fire, and, much to her surprise and delight, this hot-headed Romeo wants to be her boyfriend. Pyro introduces her to the most important clique at Xavier's – the Hellfire Club. These boys are the elite at the school, being handsome, rich, and above the rules. Having a super-hot, dreamy boyfriend and super-cool rich friends, as well has having the chance to develop her powers are all great things. So why does Kitty feel as if it is all wrong, and why is she drawn to Pyro's rival, Bobby?
THE LOWDOWN: While it is not at all a bad book, X-Men: Misfits isn't nearly as good as Wolverine: Prodigal Son. Prodigal Son is tightly written, focusing on a relatively small cast built around the lead. Prodigal Son's art features tight compositions and impressive draftsmanship to go along with the overall "manga-style" of the art.
Misfits' writers Raina Telgemeier and Dave Roman are working with a rather simple yet effective plot, which follows a young outcast as she tries to fit in at a place for outcasts that is setup in a way that makes her again feel like an outcast. However, the execution of this premise is bungled. The beginning, which introduces Kitty and establishes her dilemma, and the ending, with presages coming conflicts, are done very well. Telgemeier and Roman mostly mismanage everything in between, not through incompetence. They reinvent quite a bit of the X-Men, but in a novel way that might make some readers say, "Ah!" The problem is simply that they're trying to squeeze in so much stuff; it is a case of too many characters and not enough space to make many of them interesting. However, Telgemeier and Roman superbly convey Kitty's internal and external troubles and conflicts: her need to fit in, her fear of the unknown, her ambivalence about her powers, and her growing misgivings about her new pals.
As for the art by Anzu (who drew the global manga, The Reformed), it works precisely because Anzu is able to replicate the soap opera elements that made Chris Claremont and John Byrne's run on the X-Men so popular with fans. In terms of graphics, Anzu presents the X-Men in a way that is different from traditional American superhero comic books, but as for the visual storytelling, she captures the essence of the X-Men.
POSSIBLE AUDIENCE: Readers looking for a fresh take on Marvel's merry mutants will find it in X-Men: Misfits.
B+
Last Updated: February 5, 2023 - 09:06